Exhibits,
Nathan Beard & Lindy Lee
A dense intimacy
Opening: Wednesday 13 February, 6-8pm
Dates: 13 February - 9 March 2019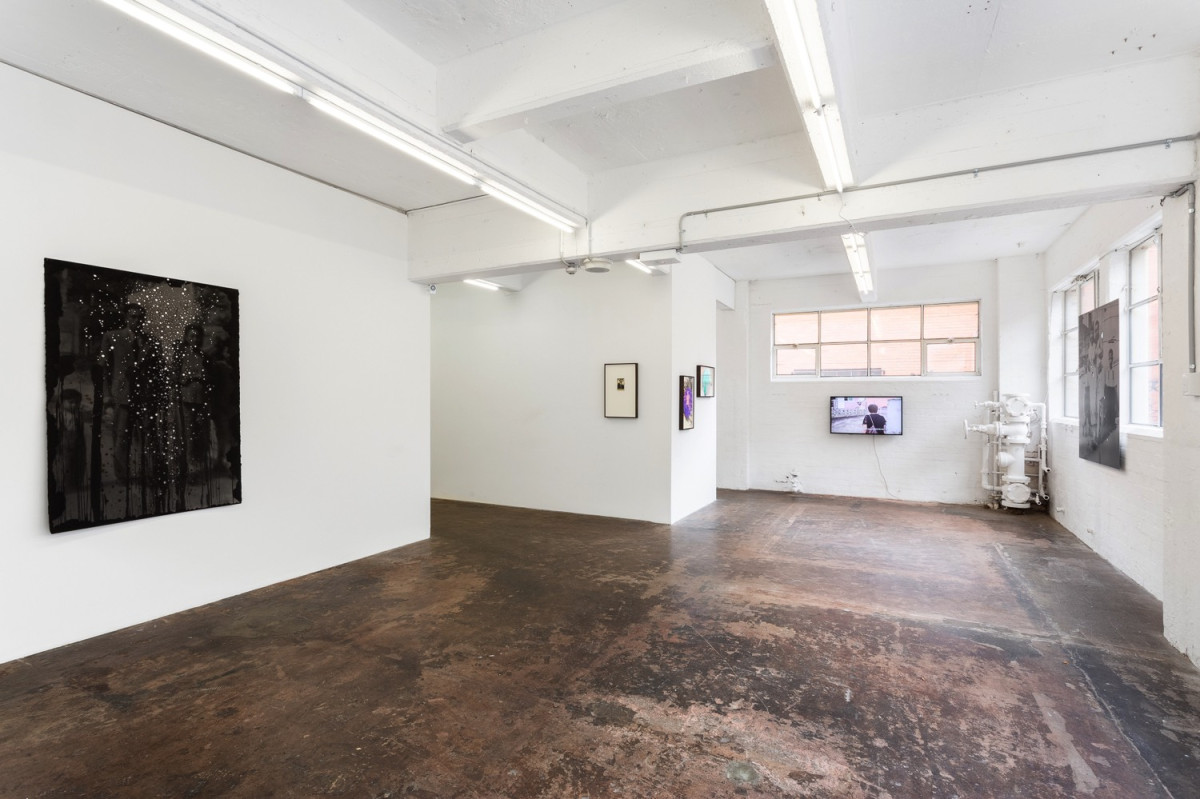 Catalogue:
A dense intimacy


'A dense intimacy' by Nathan Beard forms part of Bus Projects' ongoing 'With Compliments' series of exhibitions exploring the relationship between artists and their influences across generations and international borders and how these influences can remain a vital force throughout an artists career. For the exhibition at Bus Projects, Nathan will present a new body works, alongside works by Lindy Lee.
The 'With Compliments' program is part of a legacy of curatorial enquiries that have taken place throughout the last century, into how Australian artists locate their work within an international dialogue. Previous iterations include 'A smile forms into a grimace mid-slumber as the earth spins— it's funny, such is the sound of laughter — it is like god's hands on the shoulders of a troubled world' by Spencer Lai (AUS), Lou Hubbard (AUS) and Paul McCarthy (USA) (with Mike Kelley (USA)); 'Paper Empire' by Daniel McKewen (AUS), Paul Pfeiffer (USA) and Tracey Moffat (AUS); 'SILVER SHADOW', Lydia Wegner (AUS) and Barbara Kasten (USA); 'Country Home Ideas', Sean Peoples (AUS) and Jacky Connolly (USA); 'Your work in my dreams', Noriko Nakamura (AUS) and Gilad Ratman (IL); 'Coffee in the morgue', Saskia Doherty (AUS) with Stanya Kahn (USA) and Louise Bourgeois (FRA/USA); and 'A Moveable Priest', David Egan (AUS) with Claudia Lemke (GER).
Nathan Beard (b.1987) is Perth-based interdisciplinary artist who works across mediums including photography, video and sculpture. His practice concerns the influences of culture, memory and biography, in particular through the prism of his Thai- Australian heritage. Beard's work often includes intimate and sincere engagements with family and archives to poignantly explore the complex ways a sense of heritage and identity is negotiated.

Beard holds a Bachelor of Arts (Art) with First Class Honours from Curtin University. Exhibitions include Siamese Smize, Turner Galleries, WA (2018), Transcendence, Firstdraft, NSW (2018), WA Focus, Art Gallery of Western Australia, WA (2017), Always there and always a part, BLINDSIDE, VIC (2017), Alone and palely loitering, Firstdraft, NSW (2017), Dead Centre, Spectrum Project Space, WA (2016), Radical Ecologies, Perth Institute of Contemporary Art, WA (2016), Ad Matres, Artereal Gallery, NSW (2015), Future Archaeology, 4A Centre for Contemporary Asian Art , NSW (2015), Memento Mori, Lawrence Wilson Art Gallery, WA (2014), Anemone, Soy Sauce Factory, Bangkok (2014) and Obitus, Moana Project Space, WA (2014).


In 2017 Beard was selected for the 4A Beijing Studio Program, shortlisted as a finalist for the John Stringer Prize, and Highly Commended as a finalist in the Fremantle Art Centre Print Award.
Lindy Lee's practice explores her Chinese ancestry through Taoism and Ch'an (Zen) Buddhism – philosophies that see humanity and nature as inextricably linked. She employs chance and spontaneity to produce a galaxy of images that embody the intimate connections between human existence and the cosmos. Her works are meditative, often revealing themselves through time.
Lee's early works make reference to the Western canon of portraiture and question the notion of authenticity in artistic practice. Lee has used imagery from her family photo albums to explore the experiences of loss and transition that have spanned five generations of travel from China to Australia. In 2015, Lee collaborated with UAP on The Life of Stars, a 6-metre tall stainless steel sculpture, hand panel beaten and mirror polished. The work draws parallels between a pattern of luminous interconnecting concentric circles and the principle that everything in the universe is interrelated. A blessing of vitality and abundant energy, The Life of Stars demonstrates the idea that wellbeing naturally springs forth when the individual and the power of interconnection are in balance. With a practice spanning over three decades, Lindy Lee has a well established reputation in Australia, as well as widespread international recognition.
Recent solo exhibitions include, The Seamless Tomb, Sullivan+Strumpf, Sydney (2017); Lindy Lee: The Dark of Absolute Freedom, the University of Queensland Art Museum, Brisbane (2014); Universal Record of the Flame, 10 Chancery Lane, Hong Kong (2013); and Birth and Death, Campbelltown Art Centre, Sydney (2007).
Group exhibitions include, Infinite conversations: Asian-Australia Artistic Exchange, National Gallery of Australia, Canberra (2018); Adelaide Biennial of Australian Art: Divided Worlds (2018); Versus Rodin: Bodies Across Time and Space, Art Gallery of South Australia, Adelaide (2017); Beyond Words: Calligraphic Traditions of Asia, Art Gallery of New South Wales, Sydney (2016-17); Marking Time, Museum of Contemporary Art, Sydney (2012); Chinese Australia, Australia China Art Foundation, Melbourne (2012); and Painthing (as one), Australian Experimental Art Foundation, Adelaide (2010). Lee has exhibited in the USA, Germany, Canada, China, Hong Kong, Japan, Malaysia, New Zealand and Singapore. In 1984, she graduated with a Bachelor of Visual Arts and a Postgraduate Diploma in painting from Sydney College of the Arts, and in 2001 she received her PhD in Fine Art from the University of New South Wales. Lee's important public works include Life of Stars: Tenderness of Rain, at the Zheng Zhou Cultural Centre, China (2016); and a commission to create a new public space in Sydney's Chinatown (2012), as well as significant projects currently under development throughout Asia.
Lindy Lee's work appears courtesy the artist, Sutton Gallery and Sullivan+Strumpf.
Documentation photography by Christo Crocker.