Exhibits,
Boni Cairncross
Actions for Sensory Disruption
Opening: Wednesday 2 December, 6pm
Dates: 2 – 19 December 2015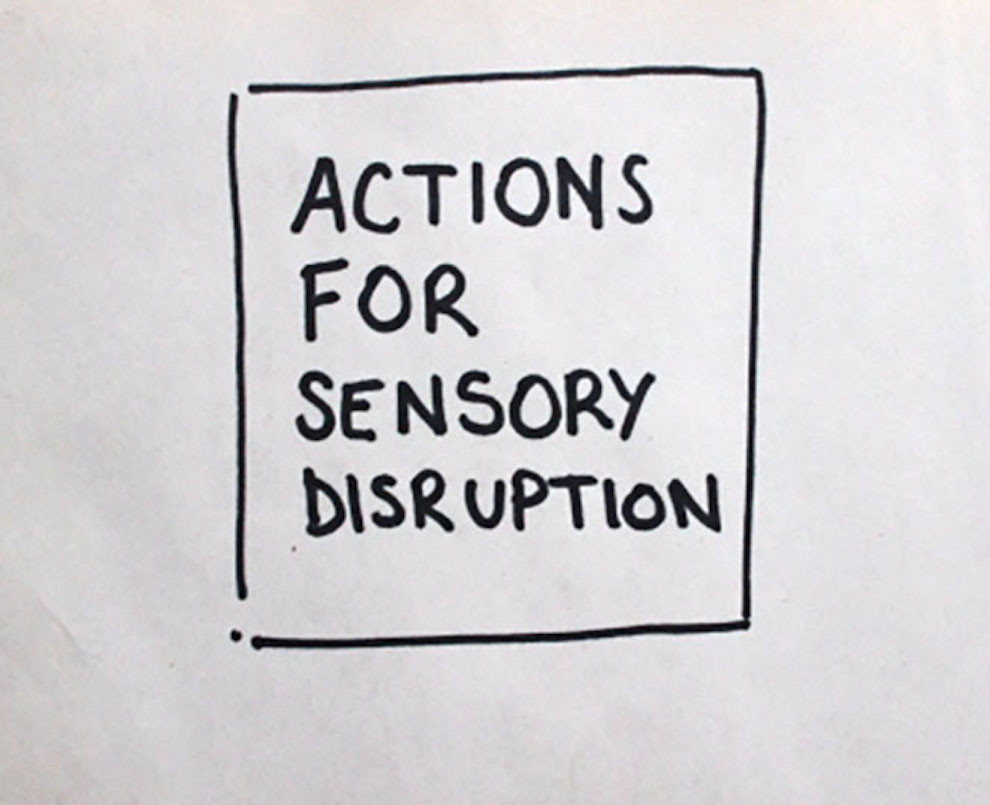 refuse to make eye contact with anyone for one month.

speak just a little too loud all the time for one month.

wear the same clothes everyday without washing them for one month.

insist on sharing your food whenever eating with other people.

consciously stand 'too close' to other people whenever possible.
It has been suggested that sensorial experiences are not simply a case of physiology, but are also imbued with social and cultural values. It is not something that is discussed much; rather this facet of sensory perception is simply practiced on a daily basis in a series of mundane interactions between people.
Since late 2014, Actions For Sensory Disruption has seen the artist adjust her daily behaviour according to a number of sense-based tasks– talking too loud, wearing the same unwashed clothes, avoiding eye contact, insistently sharing food, standing too close to other people and so on. Performed for as long as possible, these seemingly simple tasks became frameworks to explore the socially embedded values of sensory experience. The role of context and relationship became crucial elements – what does it mean to say farewell to a friend without looking at them? To stand very close by to someone who keeps asking you on dates? To tell someone you haven't washed your clothes for two weeks?
In exhibition form, Actions For Sensory Disruption attempts to document the hours and months of these intangible gestures. Records become objects that detail the strategies, the negotiations, silliness, paranoia, the failings, the moments when it simply became impossible and the insights it offered.
Boni Cairncross' practice is an inquiry into the structures that inform our perception of experience. Responding to site and context, her practice moves across media. To date, it has been realised as performance, real-time documentation, text, installation and textiles.
Cairncross has presented work at VCA-Margaret Lawrence Gallery (Melbourne), Performance Space (Sydney), PACT (Sydney), 55 Sydenham Rd Marrickville NSW 2204 AU (Sydney), Firstdraft (Sydney), Alaska Projects (Sydney), Sawtooth ARI (Launceston), Inflight ARI (Hobart) and PICA (Perth). Cairncross has a BCA (Hons) in Visual Art and is a current PhD candidate in Creative Practice at the University of New South Wales.