Engages,
Nick System, Concentric Curriculum
Bang, An Introduction to Pure Data
Dates: July 5, 2 - 5pm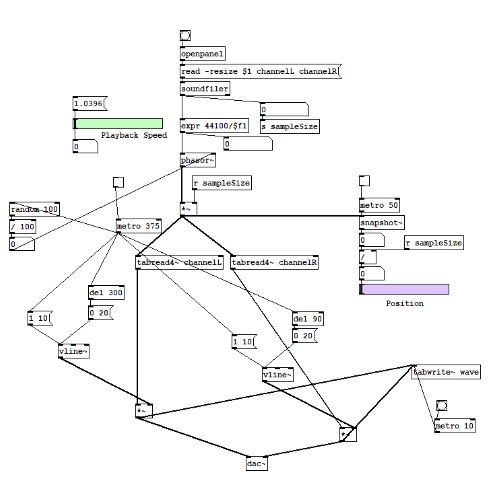 RSVP'S ARE NOW CLOSED
In this 3 hour introductory workshop, we will explore the Pure Data programming environment. Pure Data allows us to make interactive and generative multimedia works without needing to learn how to code. Pure Data can enable almost any digital audio project imaginable to become a reality. It is often used for algorithmic composition, sound installations, electronic instrument design, creating effects and building performance tools.
As part of the workshop we will learn how to:
Navigate the environment and create Pure Data 'patches'
Incorporate interactivity using ASCII and MIDI
Record and playback audio (sampling)
Build a music sequencer
Use chance and probability with random number generators
Understand programming concepts without worrying about syntax
A basic understanding of audio, and computer use is required but no coding or programming experience is necessary.
This workshop is pay as you feel. We Suggest a donation of $5 if you can afford it.
Numbers are limited for this workshop, so please email nina@busprojects.org.au to RSVP.
Melbourne based Digital Media Artist Nick System, has been honing his skills in live coding, algorithmic composition, data sonification, interactivity, and audio production for many years. Nick System has a special passion for electronic music production and melody. He is into instruction and empowering artists to use technology in their work,