Engages,
Minna Gilligan, Atong Atem, Daisy Catterall, Sheena Colquhoun
Bus Projects x Fitzroy Learning Network
Opening: at the Club House
Dates: November 2017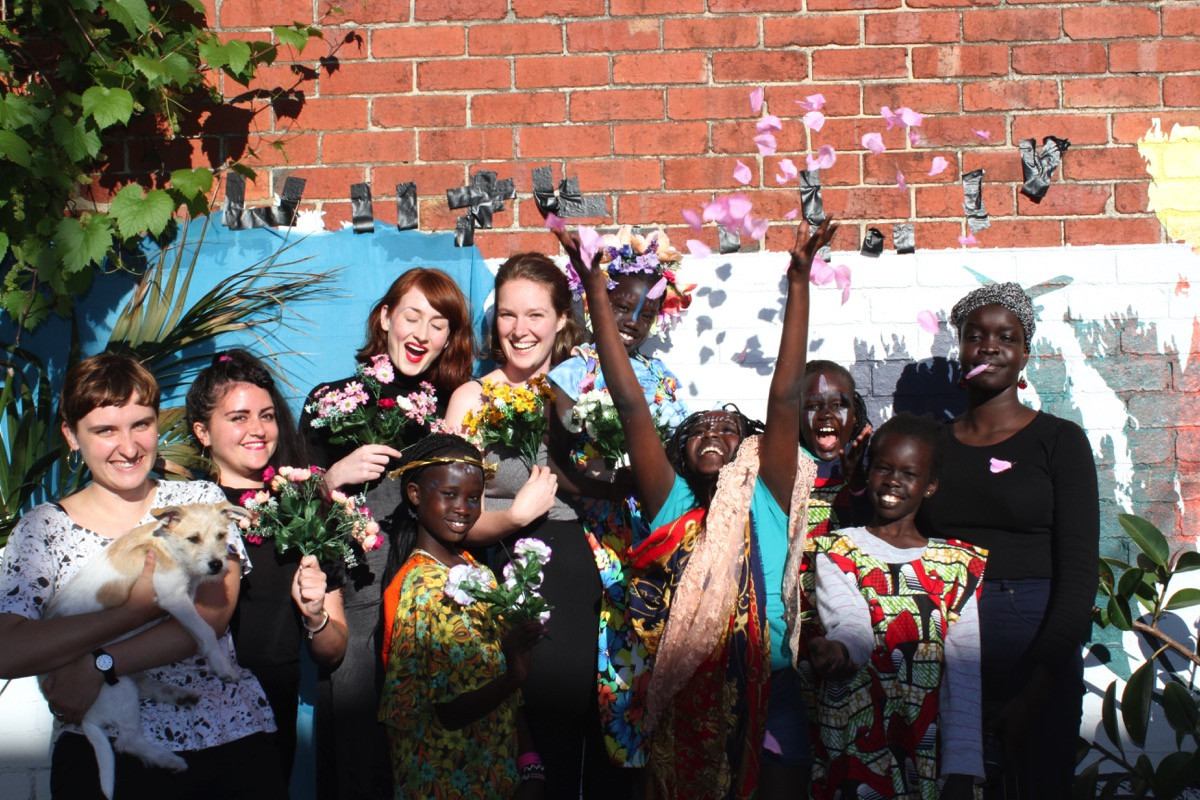 Working in collaboration with The Clubhouse at Fitzroy Learning Network, and four female contemporary artists we are delivering a series of workshops to 10-13 year old girls. The workshops are exploring ideas of representation, identity and social contexts through different forms of visual and verbal communication. Over the course of the five weeks, the participants will work with the artists to make a series of individual and collaborative artworks, which will be presented in a zine.
Minna Gilligan
Minna Gilligan works primarily with painting, drawing and collage. Her practice speaks of fleeting, personal encounters with the past and present, and manifests in a tumultuous reconciliation of both. Her works are playgrounds of colour, often inhabited by lone protagonists trapped in states of longing, sadness or exhalation. Though her paintings reference 1960s/ '70s psychedelia and evoke a nostalgic romanticism - with lone women floating in technicolor dreams - her work is atemporal, existing in a utopian space of imagery filtered through the digital realm.
Atong Atem
Atong Atem is a South Sudanese artist and writer living in Narrm Melbourne. Her work explores migrant narratives, postcolonial practices in the diaspora and the exploration of identity through portraiture. Atong is interested in decoloniality in practice and investigates concepts of home and identity through a critical and sentimental lens in her writing and art.
Daisy Catterall
Daisy Catterall is an artist whose installations are informed by the content of her zine making practice. Her work explores notions of self-preservation and how we 'take care' of ourselves. Daisy completed a Diploma of Visual Art at RMIT in 2013 and will obtain her Bachelor of Fine Art (Painting) at RMIT this year. Zine-making forms the foundation of Daisy's creative practice as it opens an opportunity for collaboration and by extension, it opens an opportunity for inclusivity, which is Daisy's major objective.
Daisy is also interested achieving maximum accessibility by spanning her work over multiple mediums; researching with zines, morphing into fine art installations, transforming into paintings on board, translating into a podcast, experimenting in DJing and music-making, and so on.
Sheena Colquhoun
Sheena Colquhoun is an artist and poet currently based in Melbourne. Primarily a video artist, she is interested in all of the shortcomings of communication, in the limits of power and in the poetic potential in everything. She completed a Bachelor of Fine Art with Honours from Monash Art Design and Architecture in 2014. Sheena was the recipient of the 2015 Sunshine Coast New Media art award, and has exhibited locally at West Space, SEVENTH Gallery and Bus Projects among others, as well as internationally in Utrecht and Berlin.