Exhibits,
Charles Robb
Catacoustics II
Opening: Wednesday 18 May, 6-8pm
Dates: 18 May – 4 June 2016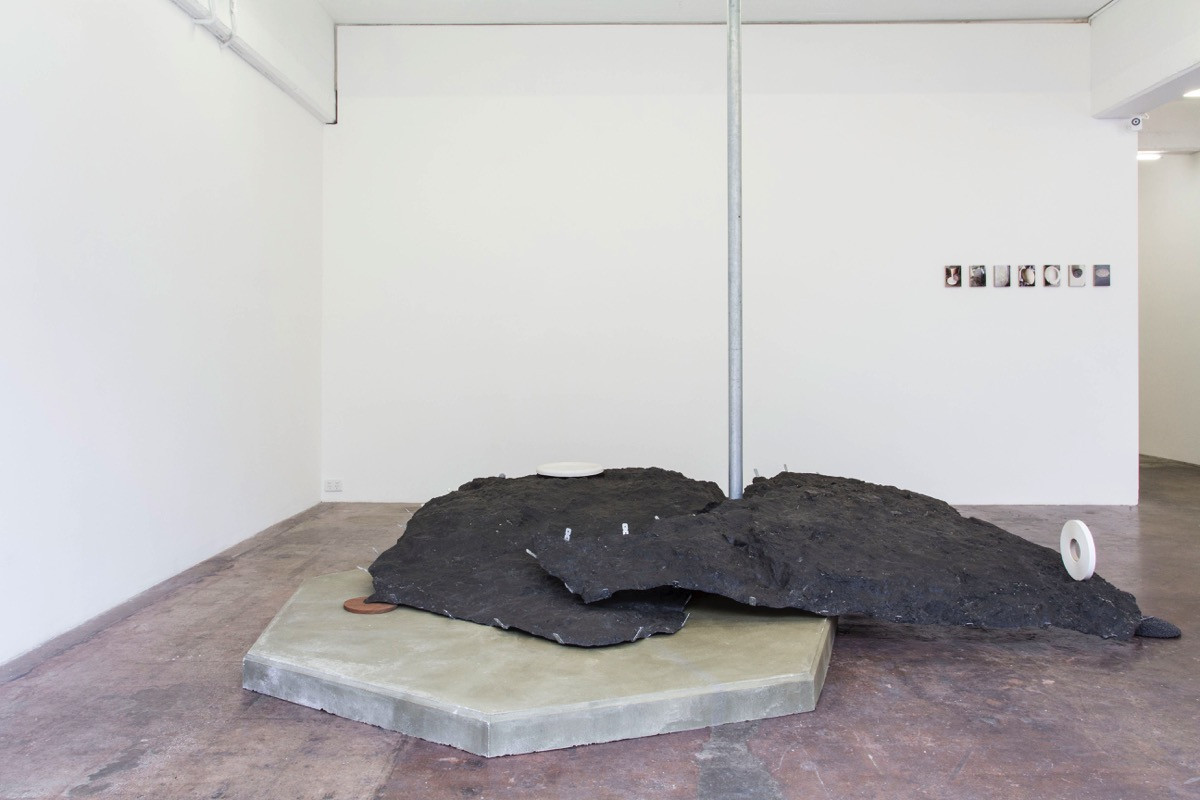 Catacoustics II is an installation comprising a pair of epoxy/fibreglass sections of the Ian Fairweather memorial rock, a large heptagonal slab, a series of small cast elements, a steel construction prop and a series of block-mounted photographs.
The exhibition reuses objects drawn from previous shows at MetroArts and QUT Art Museum (Brisbane, 2015, 2016) and extends my investigation of objects, structures and provisionality using the Ian Fairweather rock as a central element. Methodological concerns are central to the premise of the exhibition. For me, the studio is a site where incidental resemblances and associations give rise to highly circumscribed forms, and compositional structures. As a field of relationships that originate by chance but are consolidated through studied processes – installation, arrangement, casting, photography and assemblage – the studio becomes a topology in which the artist becomes simply one component in a field of object-object relationships. These objects are brought to order through their resemblance to each other, a mimetic process that is analogous to catacoustics, the study of echoes.
Here, I use a rock – the primal object – as a point of departure. As a memorial device, the boulder has a paradoxical quality, simultaneously uniting the material and the metaphysical. I was interested to discover on a trip to Bribie Island that Ian Fairweather, the local epitome of the Romantic artist, is remembered by one of these rough boulders and it is upon this rock that my work is based; its solidity converted into a hollow shell by the process of laminate casting. While the Fairweather rock refers to a specific context – its form evoking restless artistic stirrings – it also resembles the clay lumps that proliferate in my studio as a byproduct of the making process. Such obscure but highly systematic connections play out across all elements in the exhibition.
Collectively, the elements in Catacoustics II document the correspondences and slippages that occur in the studio as I produce forms that are both familiar and strange, meticulously crafted and refined but also haphazard and fragmented. Just like the artist's studio, the gallery is a space in which indeterminate subjectivities are continually generated and abandoned – a place where the untidy renegotiation of identity becomes an expressive material. It is this tension that Catacoustics II seeks to give form to.
Charles Robb, April 2016