Exhibits,
Sophie Cassar, Peter Waples-Crowe, Sab D'Souza, Jordana Bragg, Nick Mullaly, Aida Azin, Alana Rivera Kingston, Sam Petersen, Alex Cuffe, leilani fuimaono + mòrag undulating jones, Curated by Jemi Gale
True Colours
Opening: Tuesday March 9th 6-8pm
Dates: March 9 - April 10, 2021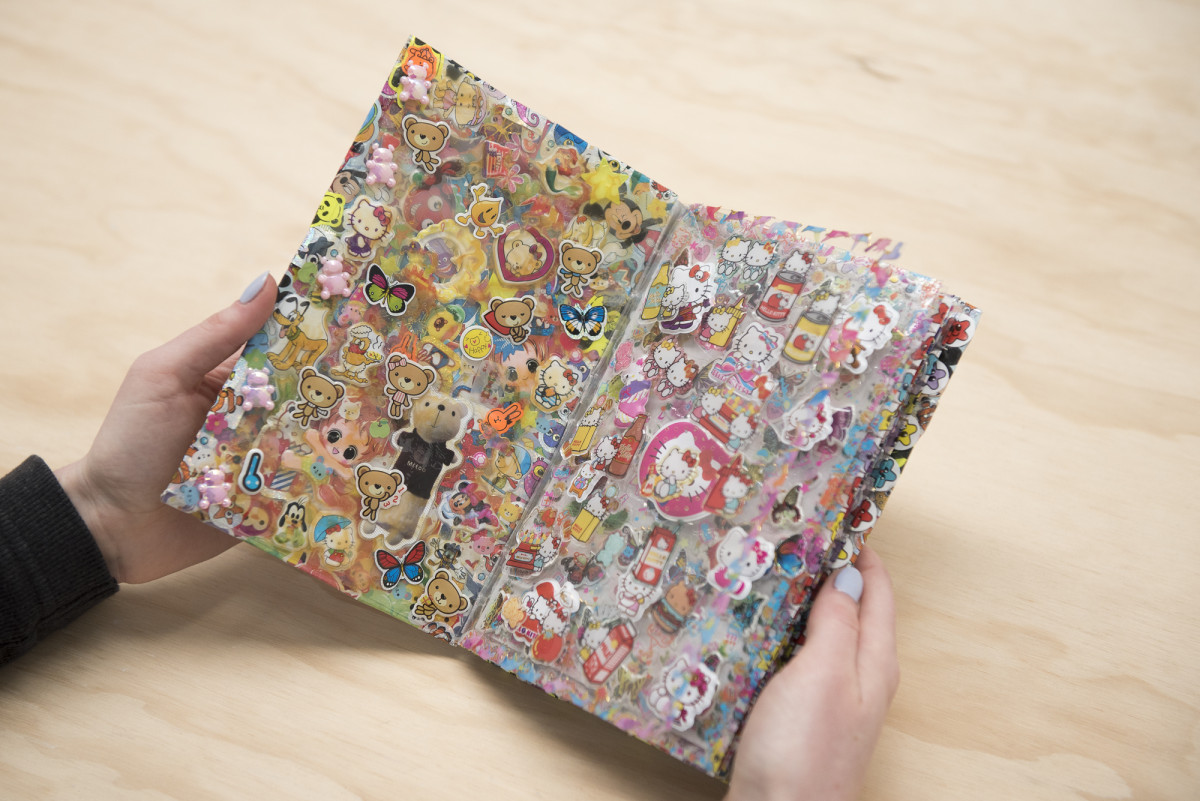 a big love letter


my friend chloe asked me if i like bananas
"cause I like eating bananas when I'm not feeling good"
i try to eat a banana every morning now


i try to remember every nice thing we did together
a field beetle falls in love with a butterfly
it's okay that anyone can do whatever they want
searching for fragments to hold onto what is lost
you're not my best friend
i see your true huns shining through


you tell me you want to be like tatu
practice asking questions so you can be good for everyone you care about
wait
forever to see you again
i can't remember all the nice things


what do we do when all the little bits go everywhere
i love you so much that i don't mind that you don't want to be seen in public with me


falling through the cracks between established groups because life is nuanced
everything that's in your head


i try to tell you it's okay but i can't speak
shared emotions
they build up into something new
an idealised structure that will never fall away from beneath you
a counterpoint to what could be described as evil
a response to the abrasion of the world


miss you


Sophie Cassar is an artist interested in bodies and their footnotes. She is attempting a reverse
"drop out piece".


Peter Waples-Crowe (he/they) is a queer Ngarigu artist who's practice is informed by his lived experience and operates in the intersection of identity, blak spirituality and Australia's ongoing colonisation. Peter has exhibited nationally and internationally, including at the Australian Centre for Contemporary Art, Koorie Heritage Trust, and the Museum of Contemporary Art, Taipei.


Sab D'Souza is a video artist living and working on Gadigal land. Their work is concerned with emergent social media practices and the materiality of (web)site-specific intimacies. Borrowing the language and semiotics of queer and diasporic digital cultures, they consider how marginalised users negotiate digital structures that ultimately challenge normative systems of affect, language and power. D'Souza approaches these ideas by developing works which are presented and situated within the platforms they respond to, which typically involves text, face filters, Instagram stories, subtweets and google docs. D'Souza's practice is lived through the act of feeling(s)— online.


Jordana Bragg is an Aotearoa born, Melbourne based visual artist and writer, making work informed by critical, social and queer art theory. Designed to address the inherent violence of gender classification, Bragg focuses on critiquing romantic love as a narrative force, or hetero-script, currently in control of public, private, social, and political life. Widely exhibited and published, Bragg is the co-founder of MEANWHILE ARI (Te Whanganui a Tara, NZ) and holds a BFA Hons (Massey University), and an MFA by research (Monash University, Naarm, AU).


Nick Mullaly is an artist practicing and living in Naarm Melbourne. Specialising in oil painting and drawing, his work explores a language of symbols and chimerical forms, with the intention of developing a queer ecology. He has exhibited works at Neon Parc and c3 Contemporary Art Space, and completed a Bachelor of Fine Art (Honours) at the Victorian College of the Arts in 2018.


Aida Azin is a multidisciplinary artist living on Wurundjeri land. She uses her painting practice as a platform to promote the importance of self-representation on cultural perspectives within the visual arts. The themes presented in Aida's art practice often reflect her experience as a second-generation Australian born Filipino-Iranian woman. She critiques the effects of White Imperialism, holding space for collective discussions within communities that are in the process of strengthening connections with their cultural heritage.


Alex Cuffe describes herself as a 'non-practising' artist. She was born on the land of the Gadigal peoples of the Eora Nation (Sydney) and is currently based in Naarm (Melbourne). Her practice deals with disintegrating and reintegrating autobiographical material, unravelling story and context from emotionally haunted objects. Her outputs are often conversational, written or spoken, and she has an auxiliary interest in the production of music. Cuffe recently had her first solo show in six years at TCB Art Inc. She is currently studying her masters in psychotherapy.


leilani fuimaono is a mentally & chronically ill pasifika artist that was born on the unceded territories of the Whadjuk nation, Noongar country. leilani now resides on Boon Wurrung & Woiwurrung, and Wurundjeri country. leilani wants her work to honour their mother, who named her Leilani, and their grandmother, who gave them the matrilineal surname Fuimaono. leilani takes photos and makes sculptures about displacement, diaspora, trauma, illness and love.


mòrag undulating jones entangles with crip time.


Alana Rivera Kingston is a library worker living and working in Narrm/Melbourne's western suburbs.


Sam Petersen: I'm interested in what can be done with one's identity and the space around it. Both my body and mind, touching everyday feelings between the rational, the playful and the political.
Of course, this is often to do with my disability and my sexuality. My work has been focused on access, and the lack of it — to places, people's minds and opportunities.
I find plasticine is a great subverter of space and potentially of people's minds. And the continued flexibility of it is something I am really enjoying — covering or filling up gaps and playing with crevices.
But I'm finding that my work is drawing more and more to spoken word as a powerful format.


Jemi Gale is an artist and pop girl working with emotions.