Exhibits,
Liquid Architecture, West Space, Bus Projects
Disorganising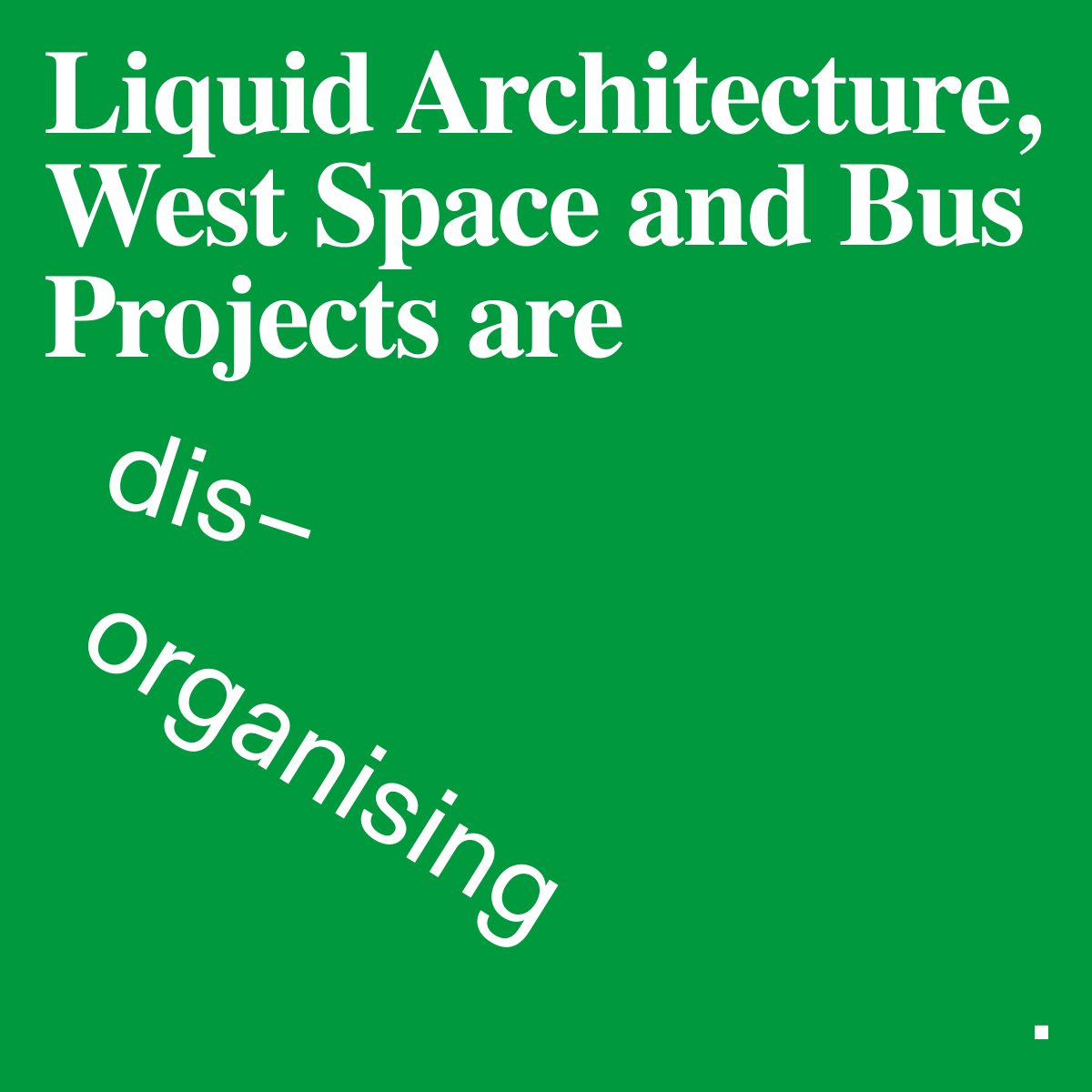 Liquid Architecture, West Space and Bus Projects are disorganising.
Earlier this year, in the context of numerous challenges to our organisations and communities, Liquid Architecture, West Space and Bus Projects came together to discuss a collective response.
We tabled many possibilities including, rather speculatively, the idea of forming a quasi-institution, comprising our three organisations. What would it mean, at a moment of precarity, to become institutionally inseparable? What conventions, protocols, legacies and habits separate one organisation from another, and to what end? How, as independent organisations, might we refuse to compete with each other for resources, and the attention of audiences, artists, stakeholders?
Liquid Architecture, West Space and Bus Projects are disorganising. This methodology is not a pathway to merger, but an experimental exercise in cooperative practice beyond previous models of partnership, grounded in principles of solidarity and interdependence. We are informed, here, by our shared context and ambitions as neighbours at Collingwood Yards, on unceded Aboriginal land. Disorganising means, wherever possible, shifting knowledge, resources and opportunities from existing organisational silos into the common spaces that present conditions demand.
Disorganising is underwritten by stimulus funding from the Victorian government, designed to aid in the economic recovery of the sector. For us this means redistributing funds to artists, curators, writers and members of our communities, sustaining our staff, as well as recruiting new people to join our teams. It also means understanding 'economic recovery' in political and cultural terms, as a fundamental questioning of the nature and value of our work.
So we end this announcement with opportunities, and more to follow. Liquid Architecture, West Space and Bus Projects are seeking to appoint two new positions, an Associate Producer and Associate Editor, in support of disorganising.
This, being the first time we have ever recruited collectively, is an experimental proposition to work between our organisations, and help imagine possibilities to come. We welcome, with excitement, applications, queries and feedback.


We are inviting applications for the following positions:


Associate Editor (Disorganising)
Part-time 3 days per week, $55,000 pro rata, until 30 June 2021
Applications due Monday 14 December 2020
Read the Position Description
Enquiries to hi@disorganising.co


Associate Producer (Disorganising)
Part-time 3 days per week, $55,000 pro rata, until 30 June 2021
Applications due Monday 14 December 2020
Read the Position Description
Enquiries to hi@disorganising.co