Exhibits,
Storm Gold and Irene Hanenbergh
Feldspar
Opening: Wednesday 29 November, 6–8pm
Dates: 29 November — 23 December, 2017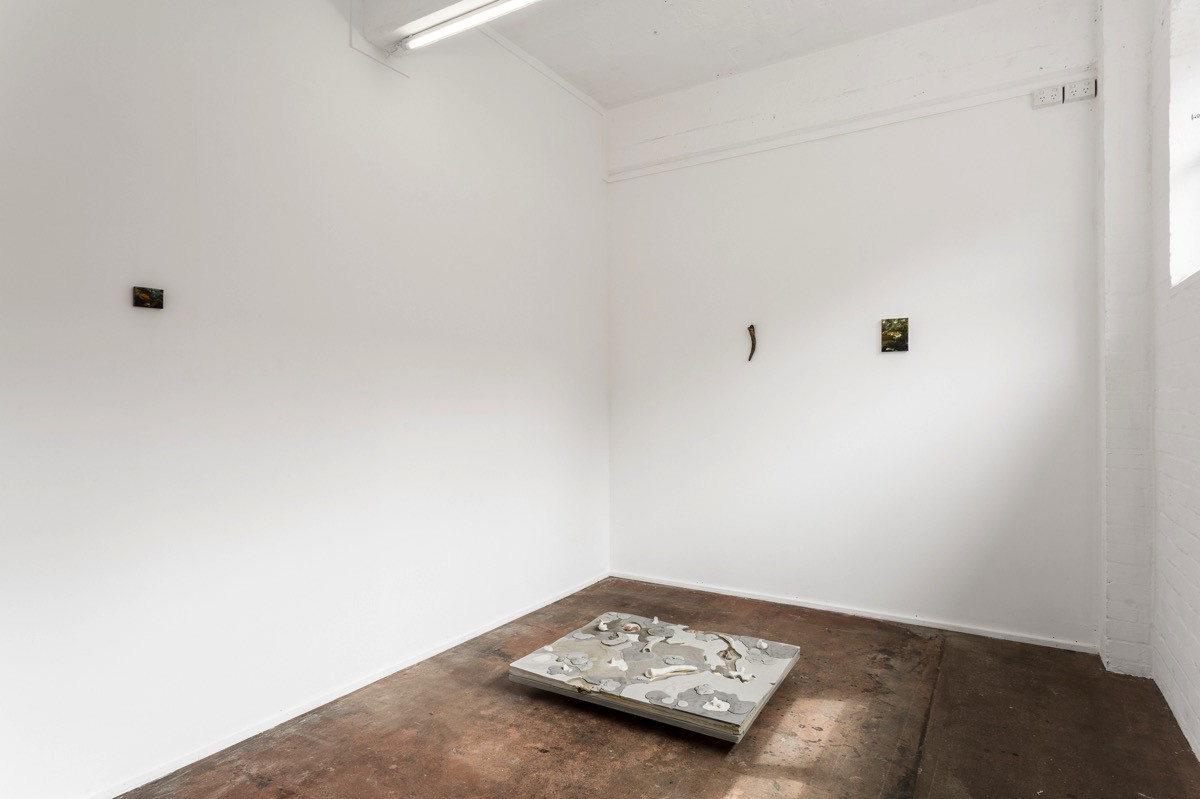 United through a long standing shared interest in antiquity, the baroque period and 18th and 19th century art, Irene Hanenbergh and Storm Gold present an exhibition of paintings and objects that have developed from regular conversations about process and influence. These conversations usually involve a discussion of a particular artist or artwork, subsequently an interpretive piece is made that is a response to the discussion. Utilising Gallery 4, Hanenbergh and Gold have combined elements from a range of recent collaborative work to realise one composition.
—
Storm Gold works within various mediums such as painting, sculpture and sound. Gold completed a Master of Fine Art by research at Monash University in 2010. He is the recipient of a New Work grant and a Skills and Arts Development grant from the Australia Council for the Arts. Over the past 10 years he has held solo and collaborative exhibitions, performances locally and internationally. In February 2015, he established along with fellow artist Kez Hughes, CAVES, a not for profit, curated art space located in the Nicholas Building, Melbourne.
Artists website: http://www.stormgold.net/
http://storm-gold-archive.tumblr.com/
CAVES: http://www.cavesgallery.com/
Irene Hanenbergh's recent exhibitions include 'Libertine, Celestine' at Neon Parc, 'House of Dandelion & Lohr (outperformance)' at Hugo Michel Gallery, Adelaide; 'Argyle Dreaming (1863)', Blackart projects, Chalkhorse, Sydney; 'Dada-Roman (4711)' at Caves in Melbourne and collaborative exhibitions as Zilverster (Goodwin & Hanenbergh): 'Zilverster' at Sarah Scout Presents, Melbourne and 'Lurid Beauty' at the National Gallery of Victoria. Other solo exhibitions have included 'Long Live Jezebelusa (The overseer & the divide)' and 'Lace Monitor (Victoria Everglades)' at Ryan Renshaw Gallery, Brisbane; 'Periwinkle Flower for the Beggar' and 'Laudanum & De Breeder', Neon Parc, Melbourne.
Hanenbergh completed a Master of Fine Arts by Research at the VCA in 2010. She holds a BFA (Hon) in Painting and Sculpture from The Academy of Fine Arts Minerva (1988, The Netherlands), a BFA (Hon) in Printmaking, from The Athens School of Fine Arts (1995, Greece) followed by 2 year Postgraduate Research at the same academy. Additionally she completed a Post Graduate Program at The Royal College of Art (London, UK). Her work is widely represented in public and private collections. Hanenbergh teaches Master of Contemporary Art at the VCA, Melbourne.
Irene Hanenbergh is represented by Neon Parc, Melbourne.
Zilverster (Sharon Goodwin and Irene Hanenbergh) is represented by Sarah Scout Presents, Melbourne.
Artist websites: http://www.irenehanenbergh.com/ and www.zilverster.com
Photography by Christo Crocker.