Exhibits,
Lisa Sammut
For the time being
Opening: Wednesday 20 July, 6-8pm
Dates: 20 July – 6 August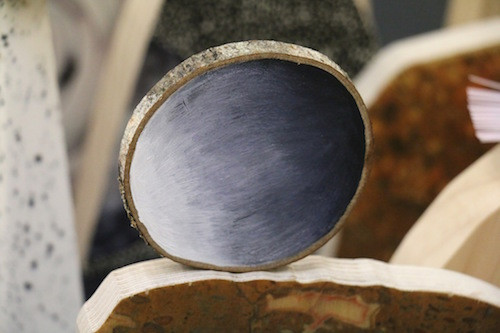 For the time being began with the romantic notion that all of natural and cultural history is an epic panorama, embracing the present, past and the future in continuum. A constellation of clockwork and prop-like objects, this exhibition considers the imaginary time of other possible worlds by merging a collection of natural remnants, mineral formations, tectonic forces and planetary movements with familiar cultural and observable representations of time unfolding. A vision of magnitude in dioramic scale, 'for the time being' embodies a sense of expansion and seeks intimacy and immediacy with the many versions and monuments of time: lunar, solar, geological, astronomical and cosmic.
Lisa Sammut is a Sydney based emerging artist who seeks to gain a tangible sense of cosmic time and scale through material production. She received a Bachelor of Fine Arts with Honours (Class 1) from the College of Fine Arts, Sydney in 2012. Her recent solo exhibitions include Every now and then at Firstdraft (2015), With the Inconstant Sun as my Shadow at Archive (2013) and Of magnitude as part of a Culture at Work Art Science Residency Program with the Sydney Observatory (2013). She has participated in numerous curated group shows including Future War, Firstdraft (2013); Material Rites, MOP Projects (2013); Will to Keep, 107 Projects (2014); Forever is an optimistic view, Archive (2015); Specific Gravity, Moana Project Space (2015); Objectifying Elsewhere, Seventh Gallery (2015) and As if light could be translated, Firstdraft (2015). She was recently awarded the Australia Council Artstart Grant (2013) and Jenny Birt Award (2013) and was a finalist in both the NAB Emerging Artist Award as part of Art Month Sydney (2014) and Hazelhurst Art on Paper Award (2015). Lisa is currently an MFA by Research candidate at UNSW Art & Design, Sydney.
This project has benefited from an Arts & Design Grant courtesy of Arc @ UNSW Limited