Engages,
Tai Snaith, Masato Takasaka, Chris Bond
Forum: Where are they now?
Opening: Wednesday 17 March 6:30-8:30pm
Dates: 17 March 2010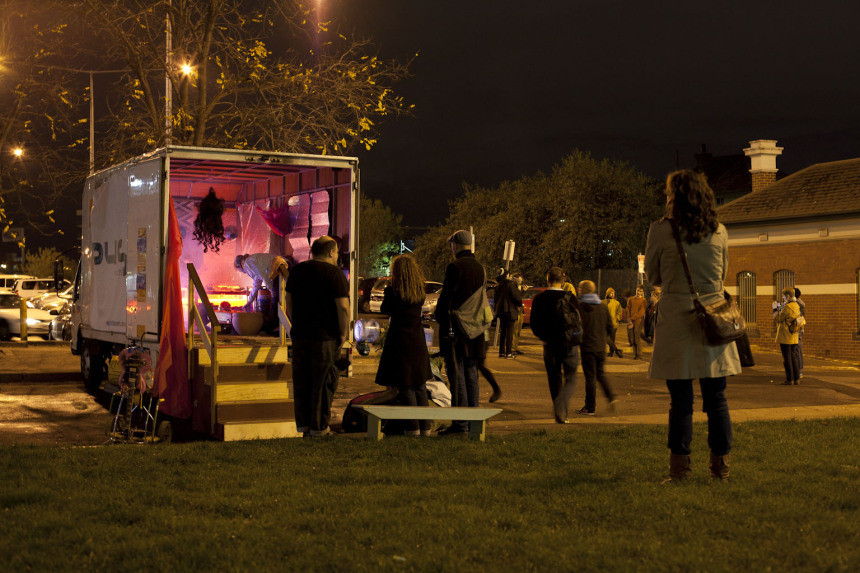 "Where are they now?": Musings from Bus artists
So you've had a show at Bus. It went well. Lots of people came and they seemed to like your art. What happens next? Is it a matter of sitting around and waiting for the exhibition offers to come flooding in? Will you need to fend off gallerists desperate to represent you? Or do you just return to your garret to starve some more? Hear three artists recount their experiences firsthand, starting with the exhibitions they have held at Bus and looking at the different directions they have taken since their shows. What did Bus actually offer them? Was it any different to what other ARIs or other art spaces offer?
with
TAI SNAITH
Tai Snaith graduated with Honours from the VCA in 2002 and has since exhibited her site-specific illustration and collage work at various commercial and artist-run spaces, including several shows at Bus such as Faites de Lumiere (with Narinda Reeders) in 2003, Next Wave 21st Birthday Exhibition in 2004 and Broken Windows Theory in 2006. Tai has worked as a Visual Arts Producer for the Next Wave Festival, Melbourne Fringe and Emerging Writers' Festival. She recently curated the collaborative site-specific program House Proud for the 2008 Next Wave Festival, which was restaged as a project space for the 2008 Melbourne Art Fair. After receiving an Australia Council grant to travel to Berlin and Glasgow in 2005, Tai initiated the New Ruins project which was presented as part of the Commonwealth Cultural Program for the 2006 Next Wave Festival. Tai regularly conducts a critical arts review program on 3RRR FM, and has recently completed the Australian Council Tokyo Residency.
MASATO TAKASAKA
Masato Takasaka is an artist living and working in Melbourne, Australia currently undertaking a Master of Fine Art (by Research) at the Faculty of Art and Design, Monash University. Masato completed a Bachelor of Fine Arts (Honours) at the Victorian College of the Arts in 1999 and held a studio at Gertrude Contemporary Art Spaces from 2002 to 2003. Recent exhibitions include Post Structural Jam (Shut up! We know you can play..) at Y3K Gallery, Melbourne and Cubism and Australian Art, Heide Museum of Modern Art, Melbourne. Masato has exhibited in various artist run, not for profit and commercial spaces across Australia and internationally, including Inverted Topology at Bus in 2002. Masato was a board member of Bus in 2006 and also teaches History and Theory of Interior Design at RMIT University.
CHRIS BOND
Chris Bond completed a Bachelor of Fine Arts (Honours) at RMIT University in 1997 and has since held exhibitions across Australia, including Gertrude Contemporary Art Spaces, Melbourne Art Fair, RMIT Gallery, Canberra Contemporary Art Space, GrantPirrie Gallery, Centre for Contemporary Photography, Ian Potter Museum of Art, Australian Centre for Contemporary Art, Heide Museum of Modern Art, VCA Margaret Lawrence Gallery, Linden Arts Centre and Nellie Castan Gallery. Chris held a studio at Gertrude Contemporary Art Spaces in 2001-2002 and has since shown at Bus on three separate occasions. He is currently represented by Nellie Castan Gallery and his work is held in private collections in Australia, the USA and South America. For several years Chris was also Assistant Curator at the Counihan Gallery in Brunswick until he left in early-2009 to focus on his practice as a full-time artist.