Exhibits,
Tim Bučković
Ground
Opening: Wednesday 30 September, 6–8pm
Dates: 30 September – 17th October 2015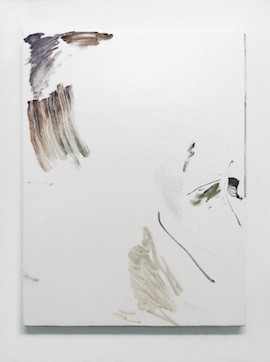 GALLERY 2
'Ground' consists of a group of paintings of signs positioned within a painted landscape. This landscape holds a peculier place in these paintings, in one sense it could sit as a ground, historically an idiosycratic place beneath where the paint is formed. Additionally it can be used beyond as a compositional element found through a formation of signs operating and actively shifting. Through an unforgiving application technique, the landscape of the ground and the contained, strategically linked relationship inherent to the signs of the painting are tested as compositional determinates for framing a pictures outcome or capacity for semiotic significance.
Backgrounds, linear structures, trees, strokes or movements are placed against areas of air or space – pronouncing them as signs – which once run through as a landscape of options, aims to push paint into an interval of presence. Through looking to find a specificity for landscape to painting that can only exist within a setting where painting and semiotics co-exists, the paint is strained once more, uncomfortable and identified as out of position, revealing its capacity to be coded, contridictive, looped and movable in the most crucial moments of images.
Tim Bučković lives and works in Melbourne. In 2014 he completed his Bachelor of Fine Art (Honours) at the Victorian College of the Arts.