Exhibits,
Manisha Anjali, Natasha Matila-Smith, EJ Son, Rosie Isaac, Angie Pai
I will never run out of lies nor love
Opening: Wednesday 10 July, 6-8pm
Dates: 10 July - 3 August 2019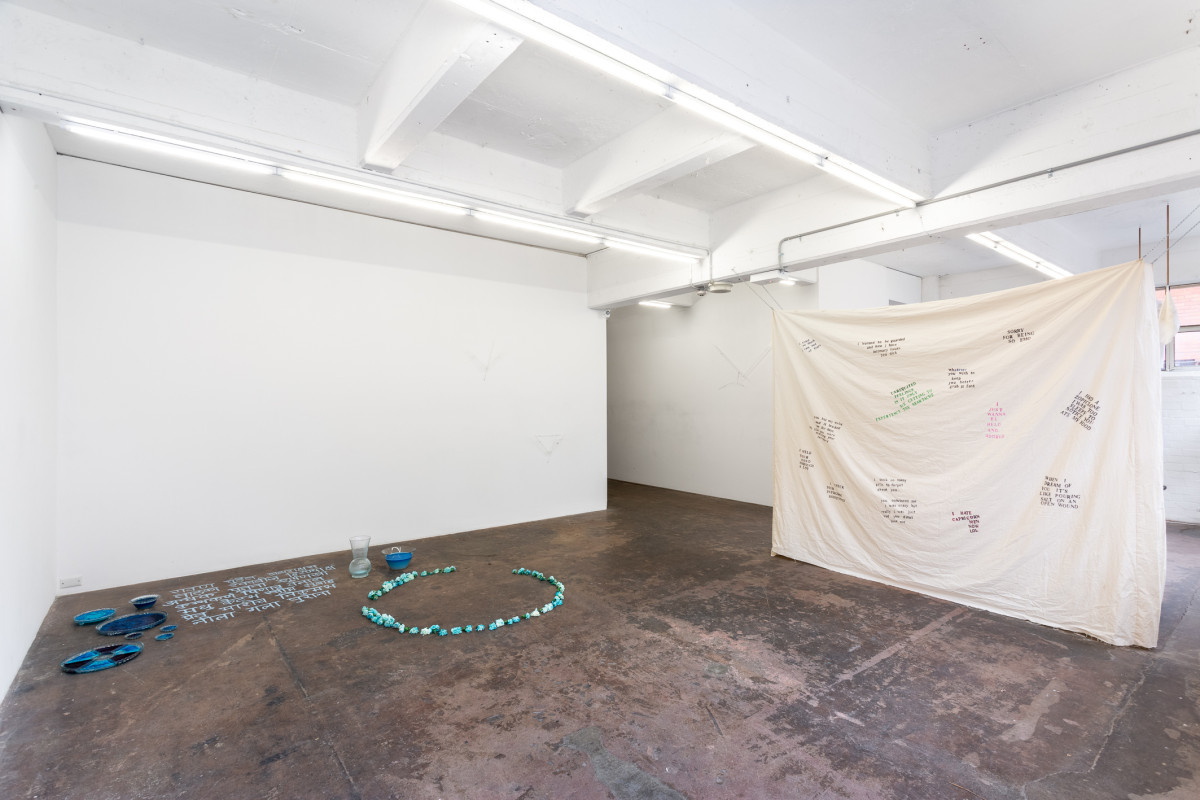 The use of language within artmaking is a powerful tool to negotiate identity through social, political and personal narratives, as it provides the artist with agency over their message and prompts the audience to confront societal issues or considerations. I will never run out of lies nor love is an upcoming collaborative project by Sydney-based curators Nanette Orly and Sebastian Henry-Jones that invites artists to contribute a work, either text based, spoken word or performance. Bringing together the works of local and international artists across a variety of mediums ranging from sculptural installation, video and large scale textile, in this exhibition language is used to make tangible that which often goes unheard. Through language we bear witness to the complexities of inherited trauma and how it manifests into dreams, are struck by the social nuance of romance, feel a personal story embodied and read a contemporary response to a traditional proverb. Elsewhere we observe the secrecy of words carved into a table, and their capacity for tenderness when used in homage to a grandfather recently lost. Featuring artists Manisha Anjali, Natasha Matila-Smith, EJ Son, Rosie Isaac and Angie Pai.
Artist bios:
Manisha Anjali
Manisha Anjali is a Melbourne-based writer and performer. Drawing from oral storytelling practices from women mystics, saints and courtesans of the ancient world, she brings elements of mysticism, eroticism and magic into contemporary spaces. Her creative practice encompasses religious devotion, eroticism, mysticism, dream theory, plantation poetry and folk songs. Manisha has performed at Melbourne Writers Festival, Queensland Poetry Festival, Emerging Writers Festival, Bendigo Writers Festival, West Writers Forum, Newstead Short Story Tattoo and a number of art galleries, community festivals and poetry readings around Australia and New Zealand. Her first collection of poems, Sugar Kane Woman, was released by Witchcraft Press in October 2016. Her short story Goldie the Turtle won the People's Choice Award in the NZ Writers College Short Story Contest. In 2017, she graduated with First Class Honours in Creative Arts at Victoria University, where she composed a dramatic text comprised of poetry, theatre and song. Manisha was part of the 2017 cohort of Emerging Cultural Leaders programme at Footscray Community Arts Centre. She is also the Events & Opps Editor at Asia Pacific Writers and Translators.
Natasha Matila-Smith
Natasha Matila-Smith (Ngāti Kahungunu, Ngāti Hine, Sale'aumua, Pākehā ) is an artist and writer based in Tāmaki Makaurau. She graduated from the University of Auckland with a Master of Fine Arts in 2014. Her practice often deals with social exchanges and anxieties, across installation and digital contexts. Bringing together online imagery and confessional text, Natasha's practice is an ongoing exploration of the language and social complexities of romance. Filtering through social media and exhibition spaces, Matila-Smith's honest admissions address longing, desire and social anxieties from a perspective that is at times as universal as it is deeply personal. In her work, there is an intimate and obsessive quality exploring amongst other things, understanding and expectations of intimacy, lust and romance, and societies assertion of these expectations onto the self. Recent exhibitions include Hard Feelings, The Honeymoon Suite (Melbourne, Australia), 2018; Between me and you, ST PAUL St Gallery (Auckland, New Zealand), 2018 and Sleight of Hand, RAMP Gallery (Hamilton, New Zealand), 2018. She has contributed to online and print publications such as Runway Australian Experimental Art (Australia), Matters Aotearoa and Art New Zealand.
EJ Son
EJ Son is a interdisciplinary artist working with video, ceramics and installation. Born in South Korean and immigrated to Sydney at the age of seven. She's struggled for a while with racism and patriarchy interrupting her, but she's finally had enough and lost her sanity, or perhaps found her sanity. Reflecting back upon her internalised hatred and dissociation due to her feelings of racial inferiority, her practice aims to reclaim the culture she once denied and abandoned. She used to avoid speaking Korean entirely for a while as she feared her English skills would deteriorate if she constantly spoke Korean. She comes full circle to the complexity of the racialised identity and heals herself through stamping confessional personal narratives in Hangul (한글). Recent exhibitions include The normal show (2017) at Dedspace Gallery, This is not a self portrait 2.0 (2017) at Short Space Gallery and In the Survey (2015) at Verge Gallery in Sydney. In 2018, she completed a Bachelor of Visual Arts (Honours) at Sydney College of the Arts.
Rosie Isaac
Rosie Isaac works with performance, video and writing. Most often she begins with a script, a form of writing that is always oriented towards speech.The digital female voice used for public announcements coughs, she is given a body. An allegorical personification of Security is cast as an exhausted and exploited office worker. The slippery terrain of words becoming idea becoming body is used to explore the politics of public space under conditions of power, authority and myth. Recent exhibitions and performances include 'Through flooding' (2016) part of Through love: five feminist perspectives, Brainlina's program for Next Wave Festival 2016. Slow roasted lamb (2016), Gertrude Studios, No, I couldn't agree with you more, a two-person show with Briony Galligan at TCB art Inc. (2015), Pardon me, but our position has been struck by lightning at The Substation (2014) and ?! Performance Festival, The Pipe Factory Glasgow (2014). Isaac is a current Gertrude Studio resident.
Angie Pai
Angie Pai is a Taiwanese artist based in Melbourne. As a child of diaspora, her interdisciplinary practice examines the compromises that come with living on the cusp of East and West, and the potentials of interpersonal connection. Pai's endeavours are underpinned by ancient Chinese teachings in conjunction with lived experience of spiritual disconnection - voiced on a continuum that is neither linear nor attenuated but rather ancestrally circular and introspective. Working centrally as a painter, Pai's oeuvre distorts strict art historical conceptions of movement and school. In her inaugural solo shows Silence Doesn't Work For Me (2016), and Gravity of Thought (2017) at Melbourne's Metro Gallery, Pai positions her audience towards a suite of paintings that depict ancient Chinese maxims ground in Taoist philosophy; and rendered sculptural works that depict her grapples with the perils of diasporic guilt.
Curator Bios:
Nanette Orly
Nanette Orly is an independent curator based in Sydney. Her curatorial practice is deeply engaged with themes surrounding identity development, cultural histories and offering alternative perceptions of contemporary society. Drawn to migratory aesthetics and research-based practices to form interdisciplinary group or collaborative exhibition concepts, Orly has curated exhibitions across a number of Sydney, regional and interstate galleries over the past five years. Recent curatorial projects include Transcendence (2018) at Firstdraft, Full Circle (2018) at The Lock-Up and 긴장 (that's why I get so tired now) (2018) at Seventh Gallery in Melbourne. She is currently the Co-Director of artist run initiative Cold Cuts Project Space in Petersham and Board Member of the online publication Runway Australian Experimental Art. Orly has also been a successful participant in 4A Curators' Intensive 2018 program in Sydney and was awarded the Project Curator of the Critical Animals Research Symposium 2018, based in Newcastle.
Sebastian Henry-Jones
Sebastian Henry-Jones is an emerging curator and writer living and working on ancestral land belonging to the Gadigal people of the Eora Nation. His practice is lead by an interest in the potential of the exhibition format to cultivate radical strategies of care, empathy and tenderness that transcend cultural and social difference. With a focus on visual arts practice as it informs a sense of community, Sebastian is one co-founder of 'Desire Lines', a DIY series of live art in the format of a walking tour that has been ongoing since 2016. This year he graduated from the University of Sydney with a Masters of Art Curation. In 2019, Sebastian will take part in the Curators Program at Firstdraft with Do you know this feeling? an exhibition that considers how we may articulate our experiences from within uneven power relations to one another and in whose interest it is to suppress such activity.