Exhibits,
Masato Takasaka and Matt Hinkley
Inverted Topology
Opening: Wednesday 22 October, 6-8pm
Dates: 22 October-9 November 2002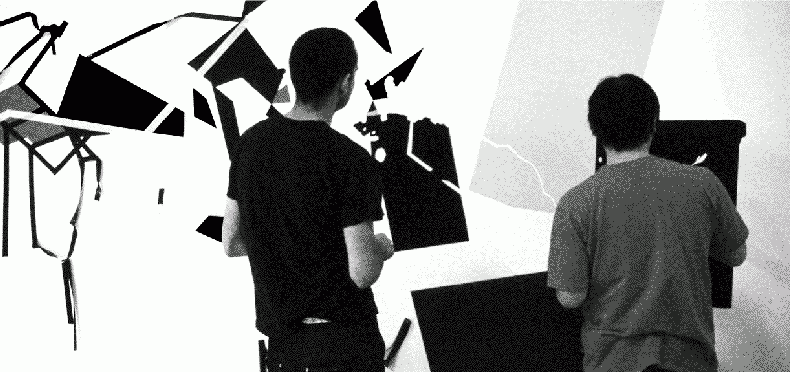 'Inverted Topology' aims to explore the deconstruction of the traditional curated gallery environment where artists exhibit separately from each other and where the curator is held apart from this activity.
Matt Hinkley creates modest works of involved detail; inscribing dazzlingly intricate patterns on small-scale plaster and silicon sculptural forms. In the past he has applied a similar patterning technique to other materials, such as newspapers, graph paper and found objects. He possesses an understated but elaborate aesthetic that opens up new possibilities for abstraction. Interested in building up surfaces, the painstaking intricacies of Hinkley's highly refined hand renderings challenge the tiny scale on which the artist works. In the age of digital reproduction, Hinkley's meticulous and delicate carvings are refreshing and perversely anachronistic.
Previously having performed as a lead guitarist in über-hip rock bands as well as practicing as a visual artist, Masato Takasaka thinks about his studio practice in musical terms, describing his aesthetic as an iPod Shuffle: playing the greatest hits of 20th century avant-garde art, with references to constructivism, dada,pop and minimalism alongside the back catalogue of his own greatest hits.
Primarily working with found objects and materials to construct his gallery based installations, art and design history collide in Takasaka's mini-cities. Described as "techno-contemporary", the exuberant chaos of his sculptural practice involves a process of working and re-working everyday materials in inventive ways to make something new. Bent, crumpled and endlessly interacting surfaces of Takasaka's work explore limitless formal possibilities and combinations.
https://www.artspace.org.au/program/exhibitions/2005/inverted-topology/
http://www.gertrude.org.au/programs/publications/publications-27/inverted-topology-727.phps