Exhibits,
Melanie Upton
It Spoke, I Listened
Opening: Wednesday 12 August, 6pm
Dates: 12 – 29 August 2015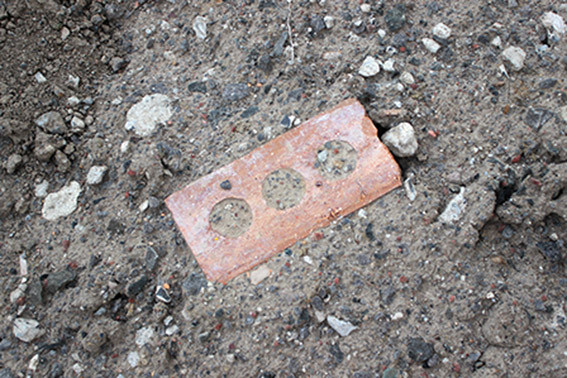 GALLERY 3
The vacant block – fenced, demolished, and strewn with rubble – is first perceived as an empty space. Yet, it is full of (still) life and force. In this vague terrain; the broken brick, the flattened basketball, the torn glove and the shattered rock, convene and commune with the space that they occupy. Left to their own devices, such spaces and objects become something more than the role they were consigned to inhabit. Ejected from the ordinary circuits of consumption, production and habitation, these empty spaces and discarded objects co-opt their own production and/or demolition, in order to become something other than what they were. Their persistent presence reminds us that human interventions are not the only forces at play.
'It Spoke I listened' investigates the inherent and vibrant power of non-useful things and the sites in which they are found. Shattering, fusing, smothering, compressing – 'It Spoke, I Listened' is an examination and re-enactment of these forces that occur in these sites of flux. This mimicry of effects doubles as an investigation of the past, present and future temporalities of these objects and the spaces they inhabit. This is a laboratory of things, where the aeons of geological time intersect with the freneticism of the built environment. Slow evolutions and violent disruptions are here displayed as form.
Melanie Upton is an artist working across sculpture, installation and two-dimensional media. Upton's work is heavily invested in the exploration of site, in particular the intersections between the human, the natural and built environments. Upton's work finds inspiration in the urban and natural spaces around us, the process of decay and renewal, evolution, and the inherent power of things.
Melanie Upton graduated with a bachelor of fine art from the VCA in 2006 and has shown in group and solo exhibitions throughout Melbourne and Brisbane. In 2015 Upton undertook research in New York and was also published in Scottish online journal 'Unthunk'. She is a recipient of local and federal government grants and has been awarded the Dr Rosenthal Award for Sculpture, the National Gallery Women's Association Encouragement Award and the George Tallis Foundation prize.