Exhibits,
Claire Anna Watson
Jellybean Lab: Order and Caprice
Opening: Tuesday 18 July, 6-8pm
Dates: 18 July-5 August 2006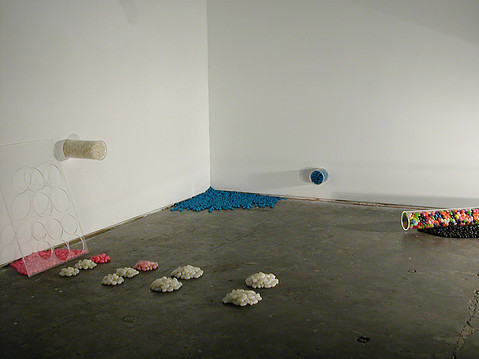 Claire Anna Watson is a curator, artist and arts writer. As a curator/arts manager she has worked with Asialink, Gippsland Art Gallery and Next Wave. As an artist she creates installations and video works, the most recent of which explore ephemeral matter as a site of scientific manipulation and experimentation. Her installations propel the everyday object into a state of dreamlike wonder revealing an abiding interest in spatial and socio-cultural analysis and a passion for the absurd. She has devised public art projects for the shores of the Black Sea in Turkey, a forest in Finland, the rural plains of Portugal and the snowfields of Australia. Claire holds a Master of Fine Art from Monash University and is Chair of BLINDSIDE's Artistic Directors. She lives and works in Melbourne, Australia.