Exhibits,
Eugene Choi, Angela Goh, Amrita Hepi, Shelley Lasica, Alice Heyward + Megan Payne
Lessons from Dancing
Opening: Wednesday 1 August 6-8pm
Dates: 1 August - 25 August 2018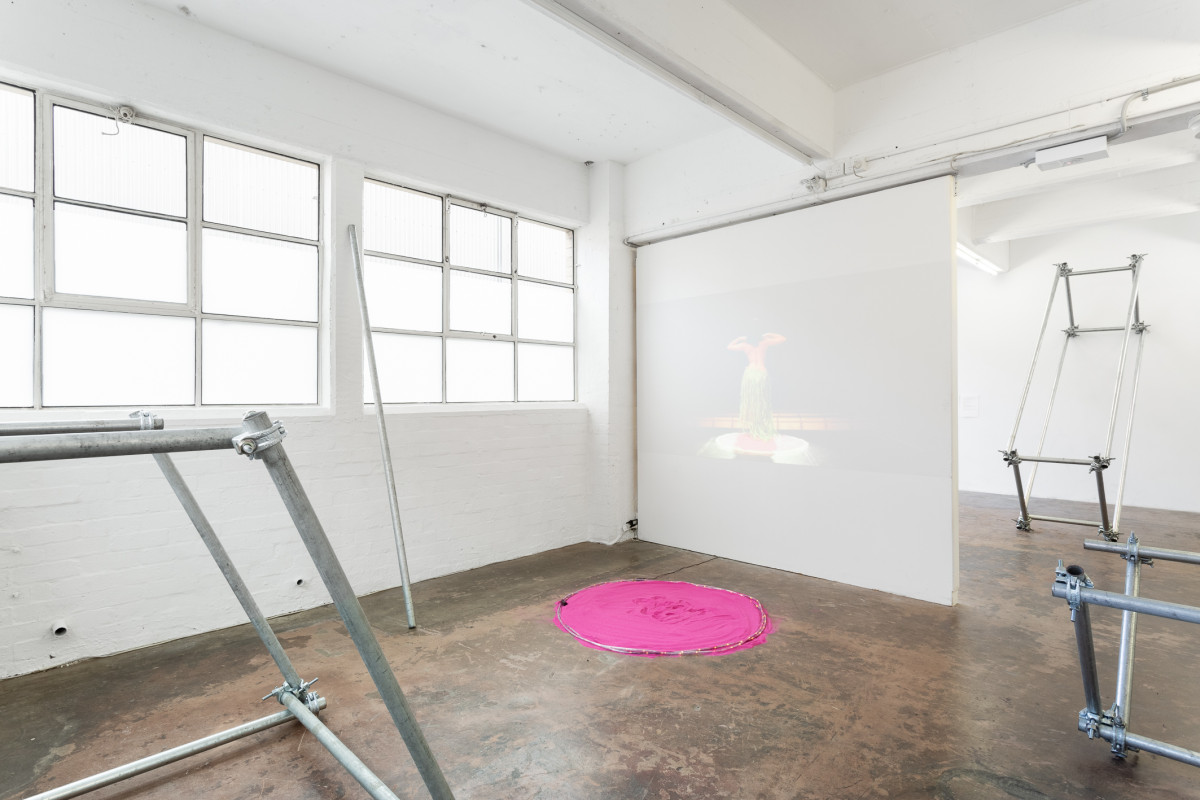 Performances:
Thursday 2nd Aug, 6:30pm:
Eugene Choi with Ellen Davies + Angela Goh
Catalogue
"Lessons from Dancing"
Text by Zoe Theodore
2018
Every Saturday 11-12pm and 1-2pm:
Alice Heyward + Megan Payne, performed by Megan Payne + Ivey Wawn
Saturday 4th Aug, 3pm:
Roundtable discussion with Deanne Butterworth, Angela Goh, Pip Wallis and Zoe Theodore.
*** Due to limited capacity attendance will be on a first come first serve basis.
—
'Lessons from Dancing' hosts a conversation between six performance practitioners who each use movement as their artistic medium. Filled with embodied expressions of subjectivity, the exhibition presents video, installation and performative works that each explore the materiality of dance, as well as the immateriality of visual art objects. Considering the possibilities and limitations of space, duration, labour and spectatorship 'Lessons from Dancing' is an open research space for choreography as artistic expression.
This project has been assisted by the Australian Government through the Australia Council, its arts funding and
advisory body.
Eugene Choi is a performance-based artist whose practice has evolved around the physicality of constructing internal and external structures working across sculpture, performance, installation, video and text. Often influenced by the body in movement, Choi's practice travels between controlled and uncontrolled states by engaging herself in unfamiliar, yet composed situations, relying on the live response of her physical and emotional body. A self-made system of geometry becomes integral between objects, bodies and space, attempting to achieve equilibrium. Her work has been performed and exhibited at Carriageworks, Underbelly Arts Festival, the Museum of Contemporary Art and Firstdraft Gallery. She regularly performs with other artists including Ivan Cheng, Angela Goh, Agatha Goethe-Snape, Xavier Le Roy and Scarlet Yu and Marina Abramovic. Choi is a current recipient of the Artspace Studio One Year Residency Program.
Angela Goh is an Australian dancer and choreographer. She is working with dance in theatres, galleries, and telepathetic spaces. Angela's works have been presented in a multitude of formats across Australia, Europe, the UK, USA and SouthEast Asia. Her work Desert Body Creep has been presented in Next Wave Festival (Melbourne), PACT Sydney, Perth Institute of Contemporary Art, the Asia Pacific Triennial of Performing Art, and most recently at Performance Space New York (PS122) COIL Festival in NYC. Her work Predictable Dances has been presented at The Judson Church (NYC), Indigo Dance Festival (paf, FR), Firstdraft (Sydney), and by Galerie International at La Biennale de la Danse (Lyon), Jan Mot Gallery (Brussels), Dansehallerne (Copenhagen), Menagerie de Verre (Paris) and Saal Biennial (Tallin). Angela's work has also been presented by safARI, Lucy Guerin Inc, ArtBank, and Performance Space Sydney, amoung others. In 2017 Angela was commissioned by Campbelltown Arts Centre to make the new work Scum Ballet, and Auto Italia (UK) to make the new work Body Loss. Angela received the danceWEB Europe Scholarship, Next Wave Kickstart commission, Australia Council ArtStart, and residencies including Critical Path, ReadyMade Works, Bundanon Trust, Rimbun Dahan (MY), Vitalstatistix, Arts House Culture Lab, amoung others. She regularly performs in the work of other artists, recently including Mette Edvardsen (NOR/BE); Germaine Kruip (NL/BE); Atlanta Eke (AU); Jane McKernan (AU); Marina Abramovic (USA/SRB); Joan Jonas (USA); Tino Sehgal (UK/DE); Marten Spangberg (SWE) and Branch Nebula (AU) amoung others. Upcoming projects include the premiere of new work Uncanny Valley, Girl at The Festival of Live Art (Melbourne) as well as the Australia Council International three-month residency at the Cite Internationale des Arts in Paris.
Amrita Hepi is a dancer and choreographer. A Bundjulung and Ngapuhi woman, her practice probes at the idea of authenticity, the perpetuation of culture and tradition. An artist who has toured nationally and internationally with a broad following and reach, her work has taken various forms (film, performance, sculpture, text, lecture, participatory installation) but always begins from working with the body as a point of archive, memory and resistance. Amrita trained at the National Aboriginal Islander Skills Development Association (NAISDA) dance college, New South Wales and Alvin Ailey American Dance School, New York. She has exhibited and performed at Sydney Opera House, Next Wave Festival, the Museum of Contemporary Art, the Australian Centre for Contemporary art, Carriageworks, ACE Open, Banff Centre Canada, Art Central Hong Kong, Art Basel Hong Kong, DARK MOFO Tasmania, Underbelly Arts Festival, and Sydney Contemporary among many others. Upcoming projects include the premiere of a new work for the 2018 Choreographic Award.
For more than 30 years, Shelley Lasica has pushed the confines of dance, choreography and performance. Her practice is defined by cross-disciplinary collaborations and an enduring interest in staging performance in non-conventional settings. The prolific and vast repertoire of Lasica's choreographic works have been presented by Melbourne Festival, National Gallery of Victoria, Artspace (Sydney), Centre Nationale de la Danse (Paris); Siobhan Davies Studios (London), Dance Massive, the Australian Centre for Contemporary Art, Murray White Room and Anna Schwartz Gallery.
Alice Heyward is a dancer and choreographer. She makes solo and group work, co-authored work and collaborative projects. Alice's work is presented in Australia and Europe at Uferstudios, Sophiensaele (in the frame of Tanztage 2017) and within many group contexts. She is an ongoing resident at art/house project, Kunsthaus KuLe in Berlin. Here, she presented Imaginary Dances in frame of the Performing Arts Festival Berlin 2017. In 2016, her work Before the Fact was commissioned for the Keir Choreographic Award at Dancehouse, and Now Is Not The Place at gallery Murray White Room. In 2018, Future City Inflatable, her collaboration with Ellen Davies, premieres in Next Wave festival. She is a danceWEB scholarship recipient at Impulstanz International Dance Festival in Vienna mentored by Louise Höjer and Tino Sehgal. In 2018 she will develop her new work, Mutter, Matter at Lucy Guerin Inc. She works regularly as a collaborator-performer in the works of artists including Xavier Le Roy, Scarlet Yu, Alexandra Pirici, Alicia Frankovich, Hana Erdman, Geoffrey Watson, Mia Lawrence, Simone Forti, Maria Hassabi, Shelley Lasica, Female Trouble, Becky Hilton and Laurel Jenkins (for Trisha Brown), among others.
Megan Payne is a dancer and choreographer. After graduating from the Victorian College of the Arts (2013) she worked with Russell Dumas' Dance Exchange in 'Room E100' Larret Cultural-Centre (France); The Body Festival (Christchurch); 'a day like any other' 'Reorienting the Post Colonial Symposium', Institute of PostColonial Studies 'Dance Remains,' Monash University Museum of Art'. Megan has presented her own work at Testing Grounds in the Melbourne Fringe Festival with Ellen Davies, TCB Art Inc, Pitch Festival in collaboration with Alice Heyward and PSP, Memphis Gardens with Leah Landau and TBP-HQ. Megan has worked with artists including Shelley Lasica, Ivey Wawn, Chloe Chignell, Amanda Betlehem and Shian Law. Her practice has been supported by the Australia Council for the Arts, the Ian Potter Foundation, Ausdance through a DAIR residency at Frankston Arts Centre, Lucy Guerin Inc. Megan is studying Professional Writing and Editing at RMIT University. She writes creative critique, nonfiction and poetry.
Zoe Theodore is a freelance producer, writer, editor and curator based in Narrm, Melbourne. She has worked with artists Shelley Lasica, Amrita Hepi, was the Co-Editor of Dissect Journal's third issue and has held professional roles at the Australian Centre for Contemporary Art and MoMA PS1. Her research and curatorial practice focuses on the relationship between performance, choreography and the gallery.