Exhibits,
Louise Bennett
Light Between Our Oceans
Opening: Wednesday 15 February, 6–8pm
Dates: 15 February – 11 March 2017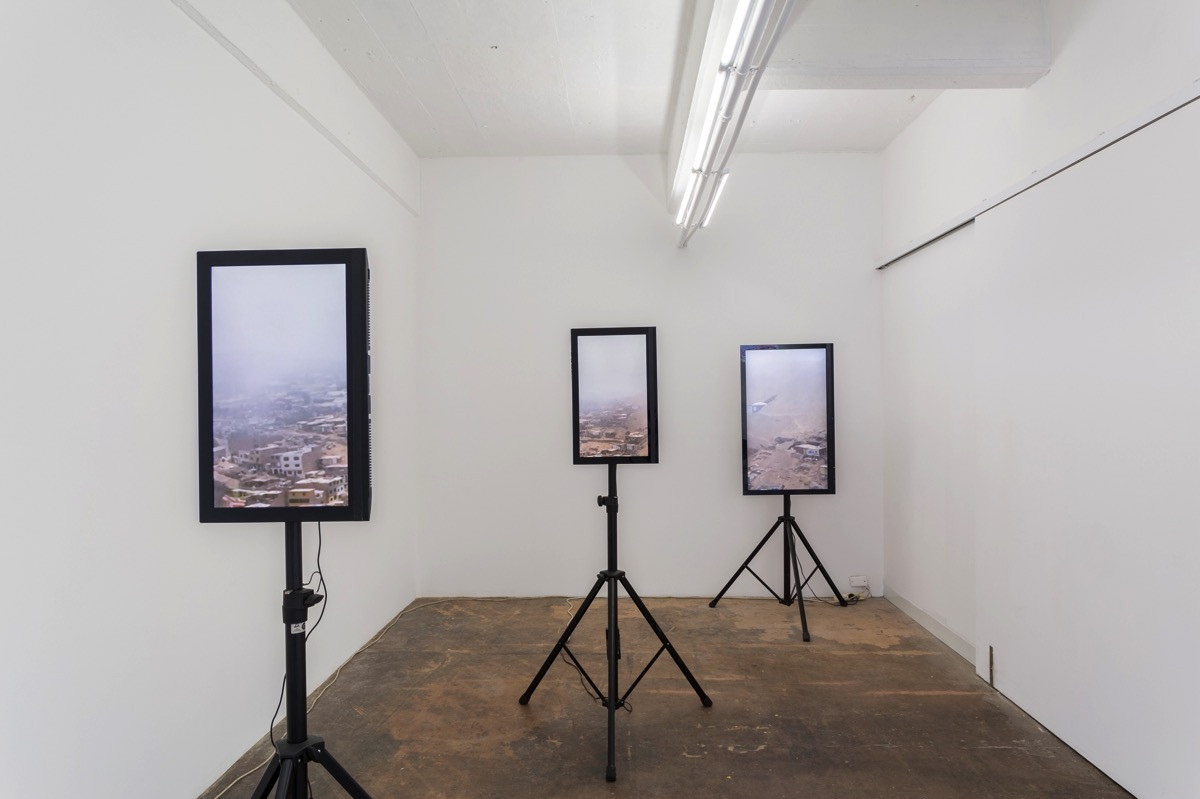 'LIGHT BETWEEN OUR OCEANS' is a three-channel visual audio installation that furthers Louise Bennett's research on the sculptural and viewer-activating attributes of video; as well as on mediation, the inbetweenness of perception that underlies our experience of reality.
These works transform audio into objects that aim to spark a multi-sensorial reaction on the viewer, they're simultaneously sculptures and portraits of a multifaceted reality. Within deeply zoomed-in images, we peer through the fabric of the digital to divine horizons, suns, clouds and smoke; all elements of a distinctive Lima landscape, here rendered into something that exists between documentary footage and abstract painting. The visitors' bodies can transit through the areas left empty by this fragmented representation of experience, birds fly from one screen and vibrate through bodies to reach and reappear in the next; the viewer thus becomes part of an immediate and ephemeral full picture.
The audio of each piece represents a different plane of intimacy: shower singing and water trickling in the familiarity of a daily routine; the breathing and kissing mixed with street sounds of a duo sharing enclosed space; and the fireworks, explosions and whistles of a collective celebration, the soundtrack of both festivity and warfare. These different planes complete Bennett's intent to form a feedback loop of emotional representation. From her position in the Pacific Coast of Lima, she puts together a multi-layered audiovisual love letter that in a way began in her childhood, while staring at the horizon in Queensland's Maroochydore Beach and unknowingly facing the future at the other side of the ocean. The process continues in the present, with the artist staring at a horizon that aligns with her past. The love letter entails experiences that mesh together, a higher dimension vibrating with futures, pasts, intimacies and presences.
Louise is currently working from the opposite side of the South Pacific Ocean in Lima, Peru. She holds a BFA with honours from the Queensland University of Technology. Recently she exhibited in the Watou Kunstenfestival in Belgium, and the historic site of Barranco's Funicular in Peru. Bennett was awarded the Brisbane City Council Lord Mayor's Young and Emerging Artist Fellowship 2016, and the Media Art Asia Pacific (MAAP) Artist in Residence Award in 2015. She has exhibited in solo exhibitions in Brisbane with Media Art Asia Pacific (MAAP), David Pestorious Projects, Boxcopy; and the Ionion Centre for Culture & Art in Greece. Bennett is also a co-director of the Brisbane artist run initiative Accidentally Annie Street Space.