Exhibits,
Anna Horne
Lightweight Heavy
Opening: Wednesday 16 March, 6-8pm
Dates: 16 March – 2 April 2016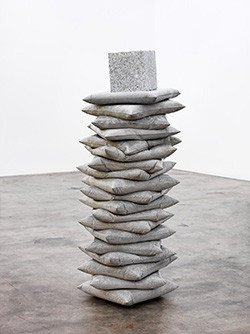 Anna Horne presents a series of sculptures focusing on the balance and opposition between materials in her art practice. Horne's work emphasises process articulating states of tension and the transience of the material world. In the making of each work principal materials, concrete, plaster and metal are cast in plastic moulds made from things such as beach balls, wine sacks and plastic table clothes. Horne selects commonplace objects for their inherent physical qualities playing with the gravitation created between materials. Each work discovers new limits where unexpected sculptural compositions are formed that attain beauty in the familiar and the functionless.
Anna Horne is a South Australian sculptor whose practice focuses on process and materiality. Her work references domestic objects and space through the use of commonplace materials; industrial home construction products are rendered strange, their practical function unrecognisable. Since graduating from the Adelaide Central School of Art in 2008, Horne has exhibited frequently in local and interstate galleries including Fontanelle (SA), CACSA (SA), GAG Projects (SA) and Firstdraft (NSW). In 2011 her work was published in FELT GOLD: A Survey of Emerging Contemporary Art Practice in South Australia. She has undertook residencies at Artspace in Sydney and Sanskriti in New Delhi, India both awarded by the Helpmann Academy. In 2014 she was a finalist in the Viscopy John Fries Award and Sydney's Artmonth 20/20 Event at Carriageworks. Horne currently lives in Adelaide and works from Fontanelle studios. http://www.fontanelle.com.au
Image: Grey, 2015, concrete, steel, paint, photo Grant Hancock. Exhibited at GAG projects