Exhibits,
Nat Penney, Eleanor Amor
Limits and Leavings
Dates: 2 March - 2 April 2022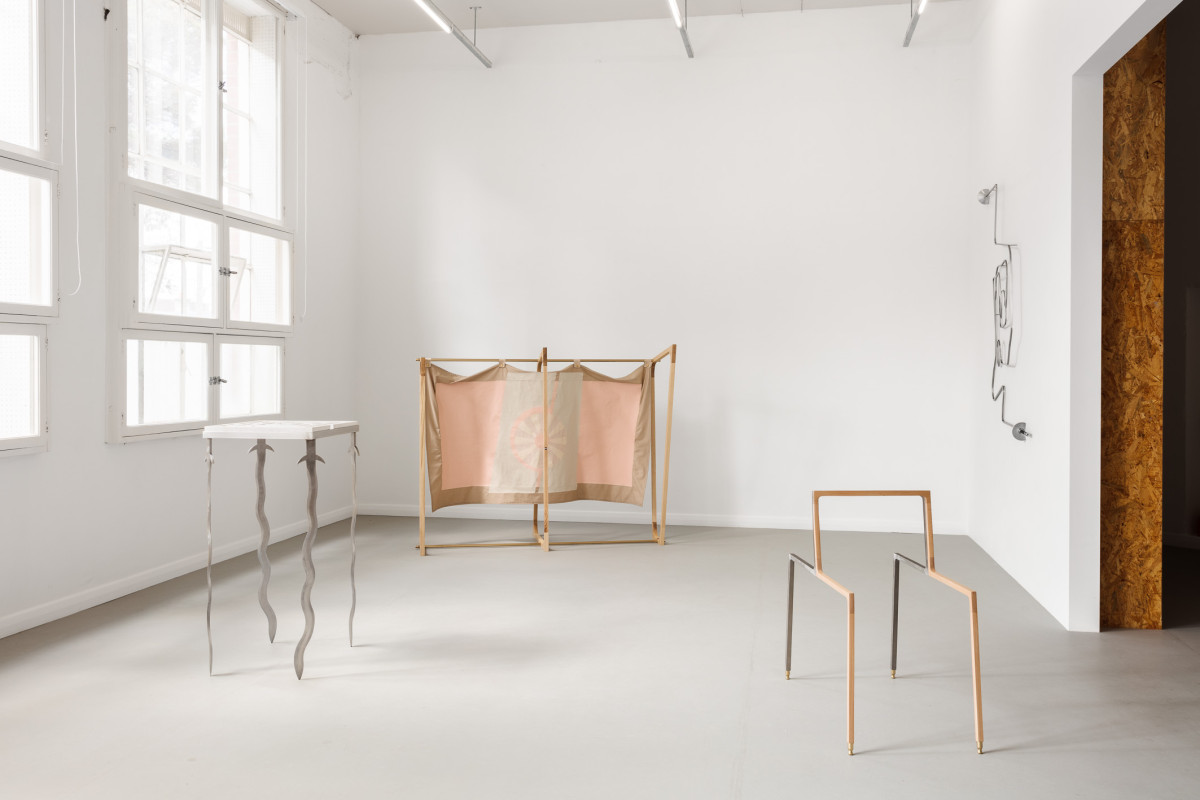 Limits and Leavings is a collaboration between Adelaide based artists Eleanor Amor and Nat Penney. Referencing the writing of Frank O'Hara, these works examine modes of support and departure. Informed by a desire for constant motion, this exhibition is restless in nature with a constant search for a place to arrive and a way to leave. Dancing the line of stability and entrapment, like an anchor that continuously needs to be cut loose.
Nat Penney is an artist based in Tarntanya (Adelaide). She has a multidisciplinary practice which engages with kinetic installation, sculpture, video and painting. Her recent work has been investigating the impact that being in constant motion has upon human functionality, and the multilayered nature of human perception, through discreet coincidences and pleasing points of interconnectedness between the familiar and unfamiliar. Penney graduated from Adelaide College of the Arts with first class honours in 2017. She has exhibited at FELTspace, Glitch Experimental Artspace and Light Square Gallery. In 2018 she was selected by Helpmann Academy for a 6 week artist residency at Sanskriti Kendra Museums in India and for a 6 month studio residency at George Street Studios, where she is now a permanent resident.


Eleanor Amor is an artist based in Adelaide/Kaurna Yarta. Working with casting techniques, metal and with ready made objects; her sculptures and installations explore the ideas of support structures, connection and the poetics of objects. Using poetry and literature to inform her works, Eleanor Amor's practice uses visual language to explore the themes of care, sentimentality, support and need. Graduating from the University of South Australia in 2018 with a Bachelor of Contemporary Art, Eleanor Amor has been awarded the Helpmann Travel Award, was the Recipient of the 2019 George Street Studios Residency and the 2020 EESAB Residency. Formerly the Gallery Director of Format Systems Inc, Eleanor has curated multiple exhibitions including the 2021 Helpmann Academy Graduate Exhibition at ACEopen. She has performed at Samstag Museum of Art, The Art Gallery of South Australia and has published work with FinePrint Magazine and Artlink. Eleanor has exhibited at FELTspace, Format Gallery, Liverpool Street Street Gallery and Praxis ARTSPACE.