Engages,
Half High, Dry Mouth, Hour House, Tim Coster
Music Video 8
Dates: Saturday 18 July, 7:30pm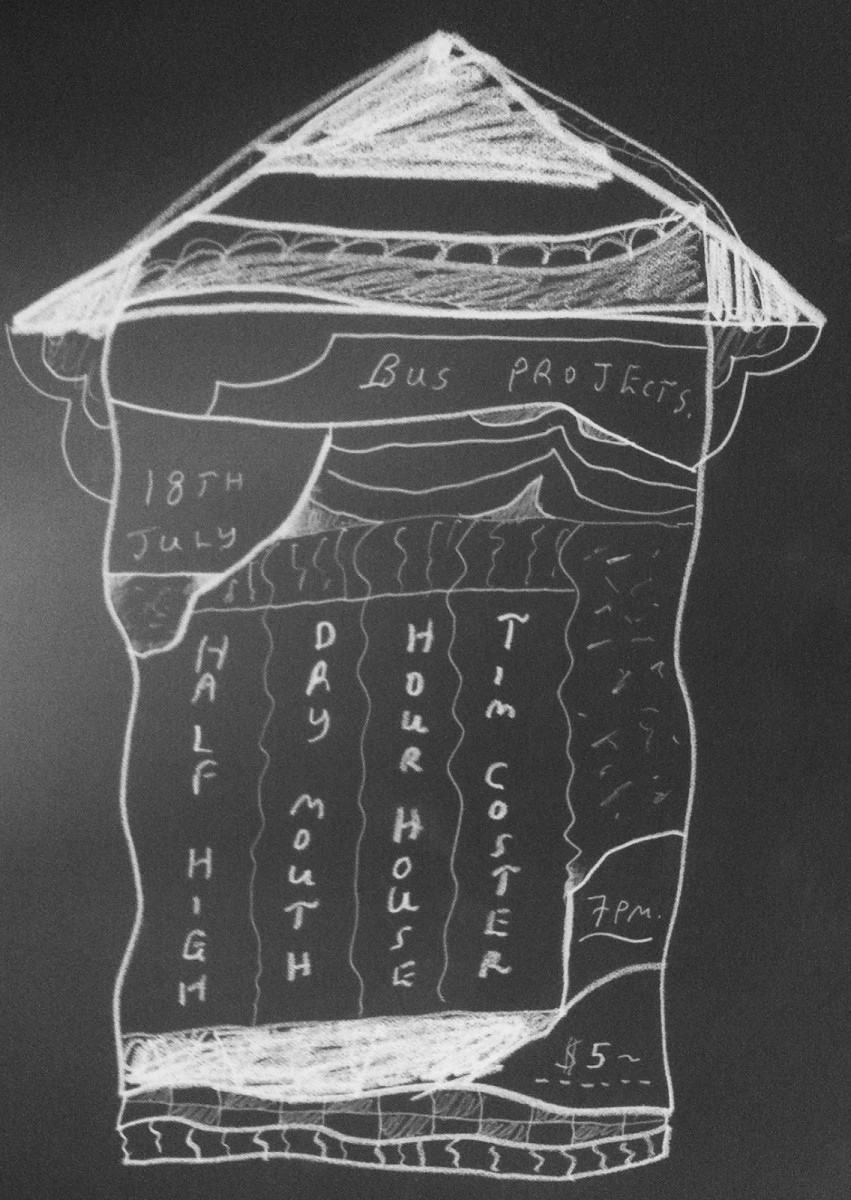 MUSIC-VIDEO: Half High + Dry Mouth + Hour House + Tim Coster
WHERE: Bus Projects
DATE: Saturday 18 July, 7:30pm
COST: $5
HALF HIGH
Half High, formerly of Sydney now based in Melbourne, are a duo comprised of Lucy Phelan and Matthew Hopkins. Both prolific solo performers, the two have also played in a vast expanse of experimental and electronic groups over h last decade, Naked On The Vague, Knitted Abyss and Four Door among them. As HH, Phelan and Hopkins craft dense webs of industrial and dark ambient soundscapes. They have released an LP, Suspension, on RIP Society and a 7" titled Shapeless Advice (Altered States Tapes) as well as a slew of cassettes and CD-R's. This will be their first Melbourne show since relocating.
DRY MOUTH
Dry Mouth are a Melbourne duo made up of Sean McMorrow and Cooper Bowman. Their sound is a woozy blend of screwed ethnic tapes, synthesisers, drum machine, vocals and more effects than anyone should own. Following a well-received 7" titled Gone Troppo and cassettes on Breakdance The Dawn, Alberts Basement and Altered States Tapes, DM have a forthcoming LP on Hashram Audio Concern due later in the year.
HOUR HOUSE
Melbourne's Hour House is comprised of Mark Leacy and Sam Kenna. Previously the two spent time in long-running experimental sextet Castings as well as both moonlighting in the excellent Painted Jesus Brown. Hour House are adept at crafting eerie vignettes, tales of tattered wallpaper and unsettlingly stained carpet. Door hinges creak, the gate won't stay shut, a broken tap gushes water. Footsteps walk towards a door that leads nowhere. Disembodied vocals weave between shuffling sample loops. Their forthcoming LP, Chiltern, is due imminently on UK imprint, Penultimate Press.
TIM COSTER
Originally hailing from Auckland, NZ but now firmly planted in Melbourne, Tim Coster creates minimal, textured floating music. Coster utilises tapes, modular synths and keyboards to achieve transcendence. He has had releases on Alberts Basement No Kings and his own Fictitious Sighs imprint. TC has an LP forthcoming on Soft Abuse in 2015.