Exhibits,
Lee Shang Lun (李尚倫)
New Objectives
Opening: Wednesday 29 August 6 - 8 pm
Dates: 29 August - 22 September 2018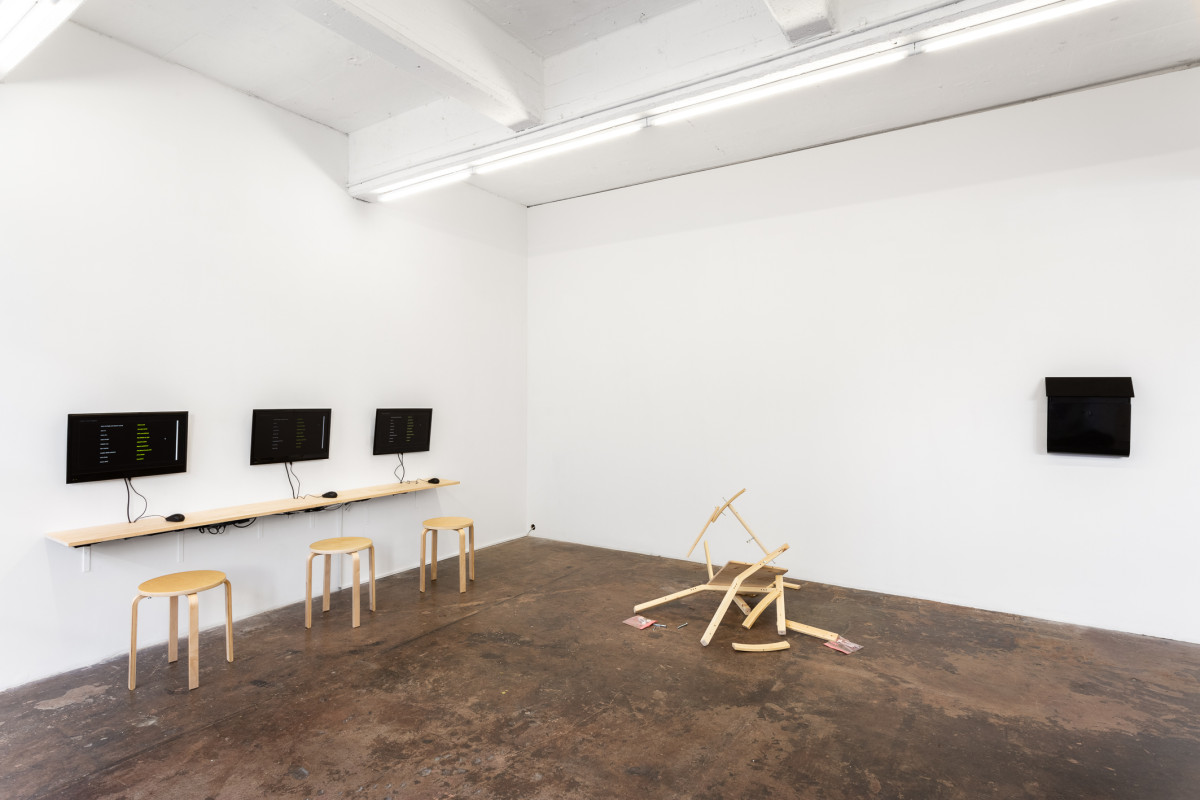 Catalogue
Lee Shang Lun (李尚倫)
"New Objectives"
2018
New Objectives is an invitation to play with a collection of curious artifacts.
Lee Shang Lun's work is presented alongside artworks created by the year three and four students from Collingwood College. These works have been created in collaboration with Lee Shang Lun throughout 2018 as part of their Reggio Emilia inspired Primary Art/ Performing Arts and the classroom project.
In collaboration with Bus Projects, Curator of Public Programs Nina Mulhull and Lee Shang Lun has been working the year three and four students at Collingwood College since April on a project exploring play, games and interaction. The students have explored physical games, instructional games, responsive games and digital games. Throughout the project, the students have made a number of games, including board games, and physical games and the game poems, instructional games, and digital games that are a part of this exhibition. This exhibition spans both the space here at Bus Projects and the streets that link Bus Projects with Collingwood College.
Lee Shang Lun is an antidisciplinary artist with a background in medicine, commerce, and game design. His practice explores and negotiates public performance and playfulness. His work has been exhibited at places such as the MCA in Sydney, London's Somerset House, and the Laznia Centre for Contemporary Art in Gdansk. Shang Lun is the director of PlayReactive, a studio making bold interactive experiences, from videogames to immersive theatre. He has previously lectured at the University of Melbourne and RMIT University, and in 2013 he was the co-director of Freeplay, Australia's largest and longest running independent games festival.
Nina Mulhall is the Curator of Public Programs at Bus Projects, and helped facilitate this project. Nina has a Masters in Arts and Community Practice from the Victorian College of the Arts. She is an interdisciplinary artist, who works with communities and groups of people to collaboratively create art projects. Barnaby RW is an artist and designer who works in the intersection of physical and digital spaces. Hugo McPhee is a creative technologist exploring human-computer interaction and interfaces. Harrison Smith is a technical artist currently working for the Melbourne library service's creative technology team. Amani Naseem is a designer, researcher, and playful activist from the Maldives. Louis Roots is a trash games curator, developer, and owner of Bar SK at 90 Smith St. Thomas Bowker is a game developer and designer interested in tiny puzzles and playful interactions. Alexandra Lee is a marketer currently working on PlayReactive's upcoming immersive experience, Earthrise One. Cecile Richard is a graphic designer, illustrator, comic artist, and maker of tiny games. Their favourite train station in Melbourne is Parliament.
As part of the Reggio Emilia inspired Primary program, Primary Art/Performing Arts and the Year 3/4 students' classroom project at Collingwood College, Collingwood College would like to acknowledge and thank all who participated and offered assistance towards this project including artist Lee Shung Lun, Bus Projects Gallery, City of Yarra and Creative Arts Victoria.
Thanks to Collingwood College, especially Angela Dionysopoulos, Bianca Maxwell, Guillaume Desmons, Charlotte Ghaie, Sam Luck and Dale Perichon
Special thanks to our volunteers Lilli Lovegrove and Janine Tai and our photographer Jacqui Shelton
This project is supported by the Victorian Government
through Creative Victoria.