Exhibits,
Polly Stanton, Kate Tucker, Katie West
Notions of Care for the Hobiennale
at HoBiennale
Opening: (In Hobart) Saturday 16 November, 8–10pm
Dates: Open daily 17–23 November, 12–5pm. Cinema One, 86 Murray Street, Hobart.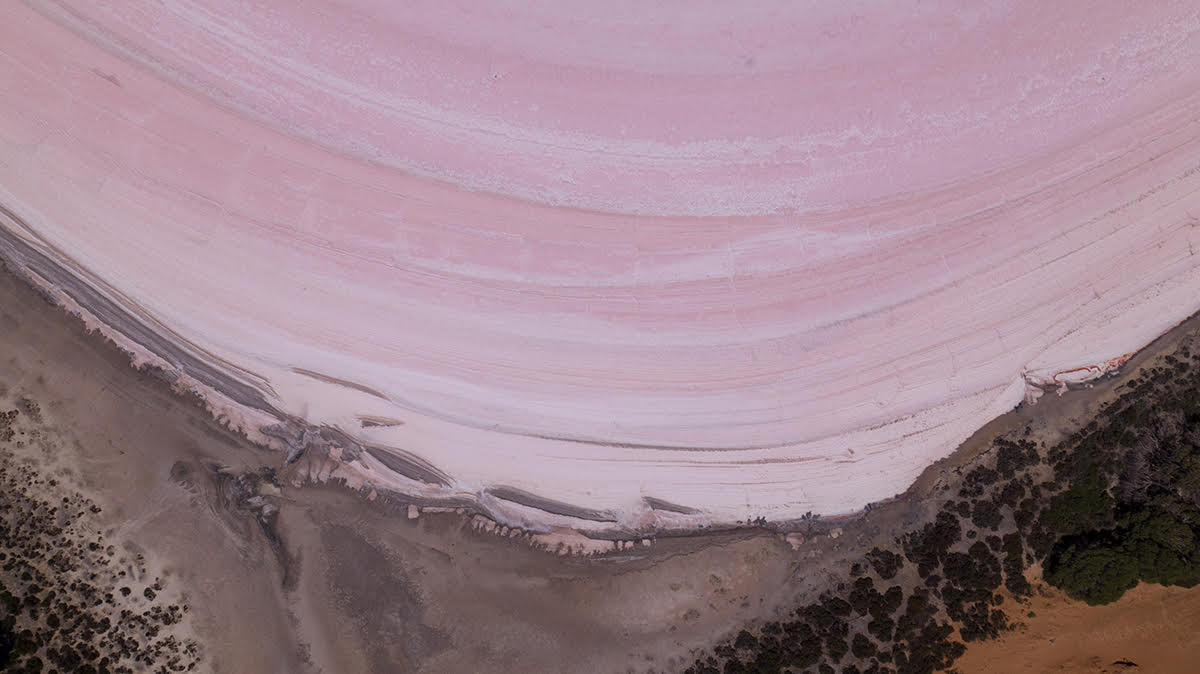 'Notions of Care' explores the ways in which art and nurture are interlinked. Through the works of Katie West, Polly Stanton, and Kate Tucker, notions of care are unfolded, displaced and enforced.
The exhibition includes a large scale video projection 'The Spectral Field' by Polly Stanton, a moving image and sound work that traces the delicate and hidden aspects of the ancient Mallee landscape. By documenting the land through cinemas ability to look and listen, the work considers the Mallee as a hauntological space that is both material and meditated. Alongside this sit a series of ceramic sculptures crafted by Kate Tucker. These handcrafted organic forms reference hand gestures from instruction manuals — illustrating notions of care both to oneself and to another. A collection of hand dyed pillow works by Katie West lay on the floor. These cushions are filled with hessian from an unknown source, and eucalyptus and banksia leaves collected on Lutruwita. Their repurposed fabric coverings are dyed with eucalyptus leaves collected in Naarm. They are an offering of a place for human bodies to rest and be with others.
Katie West (Yindjibarndi) combines naturally dyeing textiles, meditation, gaining plant knowledge, making tea, and writing scores within her installation and socially based practice. West's first significant commission for Next Wave Festival 2016, 'Decolonist', presented meditation as a way to decolonise the self. West also collaborates with artist Fayen d'Evie through their project Museum Incognita, which revisits neglected, concealed or obscured histories and activates embodied readings of place. Recent projects include solo shows at TarraWarra Museum of Art and Dominik Mersch Gallery, and inclusion in Installation Contemporary at Sydney Contemporary 2019.
Polly Stanton is a moving image and sound artist. Her work primarily investigates the relations between environment, human actions, and land use. Her films and installations focus on contested sites, presenting landscape as a politically charged field of negotiation, entangled with history, technology and capital. Sound and listening also play a critical role in Stanton's work, in both the creation and reception of projects; with listening practices and field recordings engaged with as a means to expand vision and consider the unseen materiality of place. Recent projects include screenings and exhibitions at City Gallery Wellington (NZ), RMIT Design Hub (Melbourne), Alchemy Festival (UK), Mildura Art Centre (Vic) and May Space (Sydney).
Kate Tucker works across painting and sculpture, combining various media in a manner that subverts expected order. Materials are manipulated so as to maintain a rawness and familiarity whilst taking on foreign characteristics. Tucker's recent painting and sculpting process has shifted towards building slab-like substrates through repetitive layering of materials. Rather than working within a defined area and surface, each layer becomes an opportunity to change the form as well as the content of the work. Based in Melbourne, her recent projects include solo exhibitions at Daine Singer, Galerie Pompom and Chapter House Lane and group exhibitions at NADA New York, Sutton Projects, Dutton Gallery and Caves. Tucker has been a finalist in the Arthur Guy Memorial Painting Prize, Geelong Contemporary Art Prize, The Substation Prize, Albany Art Prize, Bayside Acquisitive Art Prize, The Churchie Emerging Art Prize, Geelong Acquisitive Print Awards, and The Archibald Prize. She graduated from the Victorian College of the Arts in 2009.