Engages,
Henry Wolff, Bus TV
Ourselves
Opening: Wednesday 2 September, 7pm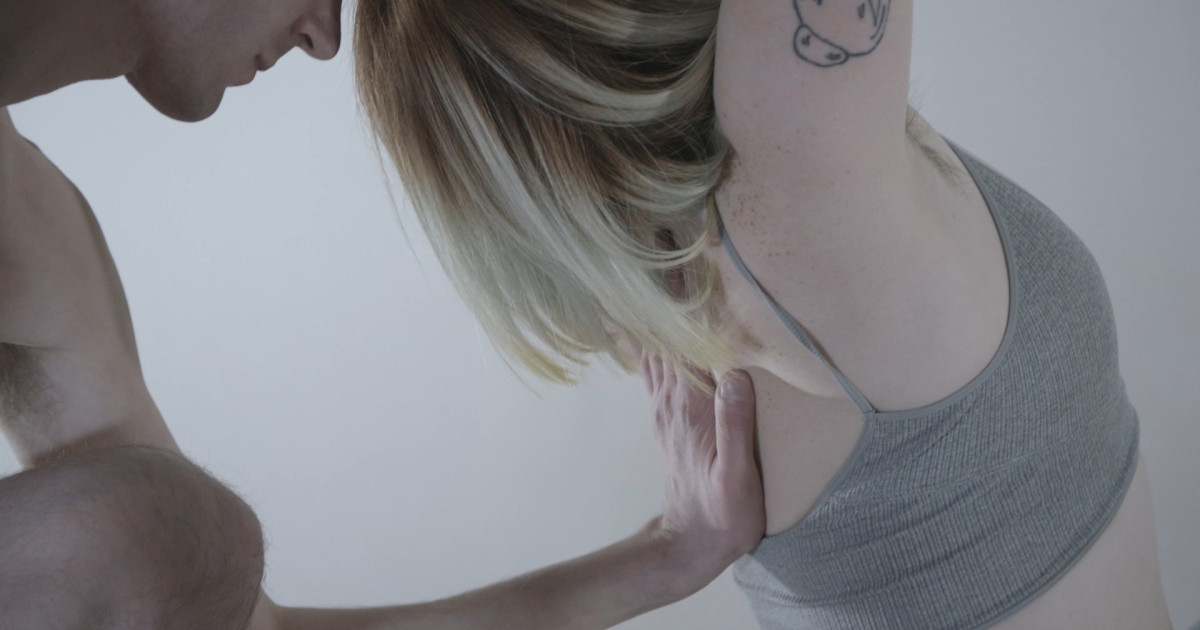 Inviting family – both found and biological - to perform and create alongside them, artist Henry Wolff utilises the dynamics within these relationships to set a choreographic language. In Ourselves, there is a constant shifting of weight between Jasmine Crisp, Jamilla Hujale and the artist - each person holds and is held simultaneously. The bodies operate both individually and as a collective, slowly oscillating between introspection and exploration; between listening and being heard. Hands grasp and shadow limbs, as each performer works to understand the needs of the other. This is how it feels to be supported and give support.
The performers share a history and the physical acts of support they undertake are loaded. By setting minimal parameters (inviting the performers to react and respond to one another in a selected environment), Wolff proposes an abstracted magnification of the dynamics within their relationships. Empathetic projection allows us to imagine how our own relationships might look in place of Wolff's. What history might be evident in our interactions? Who amongst our loved-ones would dominate the roles of supporter and supported?
The physical exchange between the group is captivating to watch because support is inherently underpinned by suspense. Weight is gauged and at times miscalculated. Joints buckle and slip. Finding balance amongst the shifting weight allows positions to be realised that would be impossible alone. These new-found elevations see the stakes get higher – there is now risk at play. With support comes responsibility. Each performer is held, and also bares the requisite responsibility of holding. In accepting support, we open ourselves up to the limitations of others. All three performers talk of the risk that comes with the unknown; of being vulnerable to those they seek support from. While the rewards are often great – we are able to reach greater altitudes with the help of other bodies – there exists the risk of the fall.
Appreciating the willingness of the performers to engage in these dynamics brings me to the writing of bioethicist Hilde Lindemann. We are relational beings and our personhood is made through our interactions with others, whether reaffirming or not. For Lindemann, support involves both acts of holding and letting go and forms the basis of identity making. Supporting someone in their identity involves holding onto those parts of a person that are integral to reinforcing their emerging identity, while letting go of things that are no longer useful. Sharing a history, as the performers do, often makes the process of letting go complicated by individual desires for surety. Wolff's performers fight against the risk of rigidity, and subsequent paternalism, in their support structures by remaining in a state of flux. And while the distribution of weight might not always fall equally, there is reciprocity.
Written by Kate O'Boyle; an emerging artist and writer based in Narrm. She would like to acknowledge that this text was written on the traditional lands of the Kaurna people.
Bibliography:
Bresnahan, A., 'Appreciating Dance: The View from the Audience', in Goldblatt, D., Brown, L., Patridge, S. (eds), 2018, Aesthetics: A Reader in the Philosophy of the Arts, New York: Routledge.
Condorelli, C., 2009, Support Structures, Berlin: Sternberg Press.
Lindemann, H., 2003, Holding and Letting Go: The Social Practice of Identity, London: Oxford University Press.
Henry Wolff is an artist practicing in Adelaide on Kaurna Country.
Their practice explores the complexity of human connection.
They work in a socially responsive manner, and investigate how we navigate vulnerability and identity through collective and familial support. Using performance, video and photography they engage these concerns throughout their emerging practice.
Henry Wolff is a Carclew Fellow (2020), and is currently undertaking a mentorship with Hoda Afshar and Eugenia Lim. They have performed at the Art Gallery of South Australia with Melbourne collective APHIDS for the 2020 'Adelaide Biennial of Australian Art: Monster Theatres', was involved with Eugenia Lim and APHIDS' 'Easy Riders' creative development at MPavilion (2019), and has exhibited work at various sites across South Australia and nationally.