Exhibits,
Josephine Mead, Zoë Bastin, Kari Lee McInneny-McRae, Jazz Money, Bridget Griffiths, Katie Paine
Relics of Survival
Opening: Wednesday 7 August, 6 - 8pm
Dates: 7 August - 31 August 2019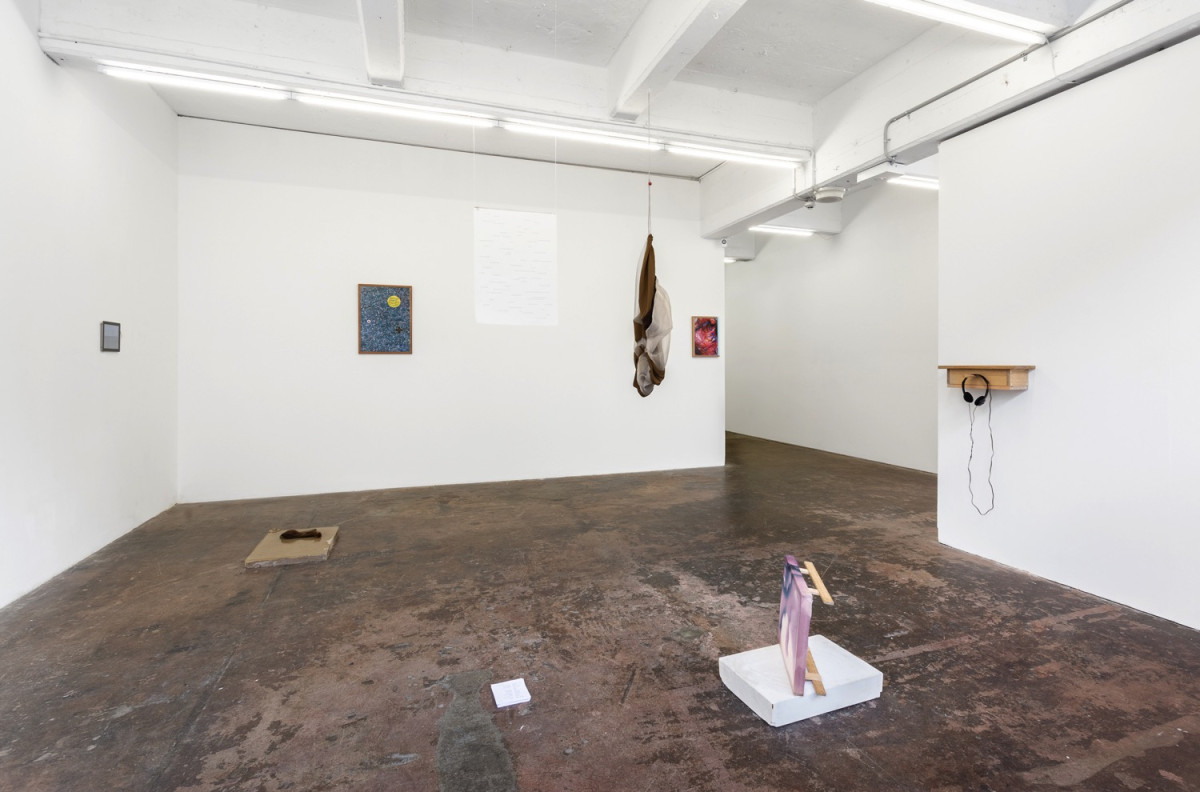 Opening Night Readings by Jazz Money and Katie Paine
Wednesday, August 7th at 6.30pm
Performance by Zoë Bastin
Friday, August 16th at 6pm
—
Interested in the rituals of making Relics of Survival looks at the series of actions and types of behaviour done by bodies and material. Imprints of physical gestures become relics, capturing actions that happened before- and with them feelings once felt.
We are taught to understand feelings as happening before speech, before logic, outside and apart of talking and rationality. Feelings, apparently, live on a different domain. A plain full of opaque shapes that we don't not comprehend but rather respond to. One that is slowly translated into words and understood through language. Relics of Survival asks how feelings become form. How rituals form relics that capture or harness affective potential.
Rituals are a set of prescribed actions, sequential, repeated. Small moments of performance enacting spiritual realities. Lighting a candle, dancing in the dark, picking flowers, breathing, scratching at the surface. The exhibition asks each artist to reflect on the processes they use, the personal rituals that have carried them through grief. The gallery becomes an archive of feelings. A collection of processes that are slowly added to and disrupted with each iteration of performance. Rituals are the actions that assist in processing emotion through material and action, rendered into something, rendered through.
Ahmed defines things human and non-human as objects. "Objects would not only refer to physical or material things, but also to anything that we imagine might lead us to happiness, including objects in the sense of values, practices, and styles, as well as aspirations." Finding no division between thought, language, objects and bodies this exhibition considers the gallery as an archive of emotions- processes that are slowly added to and disrupted with each iteration of performance. Objects and performances become relics of gestures once made. Place holders for affectual relations once had, for feelings captured and preserved.
• Zoë Bastin is an artist and curator living in Narrm (Melbourne). Bastin works in-between sculpture and dance creating choreography, objects, videos, photos and performances. Exploring the materiality of bodies and objects, her practice re-imagines her body and its connection to spatial, material and social contexts. Her recent project choreographic project Volition tries to queer movements inherited from dance training to find the body anew. Currently undertaking her PhD at RMIT University Bastin researches the materiality of bodies and objects to understand ontology. Bastin has previously exhibited and performed at The Substation, Paradise Hills Gallery, Wyndham City Council, Seventh Gallery, MADA staff Gallery at Monash University, Testing Grounds, School of Art Gallery RMIT University, Tinning St Presents, c3 Gallery and BLINDSIDE Art Space. Bastin's current projects include organising the Queer(y)ing Creative Practice Reading Group, ongoing choreography That which was once familiar and Waves are Disturbances for BLINDSIDE.
• Bridget Griffiths is a multidisciplinary artist currently residing in Melbourne. Bridget's work currently deals with ideas surrounding communication, interpersonal relationships, film theory and popular culture.
• Josephine Mead works through photography, sculpture, installation and poetic text to investigate her standing and sense of self, as a woman. Josephine's current areas of interest include seeking support through her female familial lineages; time and history as metaphorical matter; the body as a site of discursive practice; and language and translation as embodied experiences.
Josephine Mead is a Melbourne-based artist and writer. She graduated from the Fine Art Honours Degree (First Class) at Monash University in 2017. She has exhibited at a range of venues including c3 contemporary art space, Bus Projects, Stockroom, Craft Victoria, Blindside, Kings Artist-Run, Seventh Gallery and Blue Oyster Space. In 2018 she was shortlisted for the John Fries Award; undertook the Kings Emerging Writer's Program, the Arquetopia Foundation Residency (Mexico) and the Macfarlane Fund Residency. In 2019 she will undertake the Tasarim Bakkali TAB Residency in (Istanbul,Turkey) and the Cortex Frontal Residency (Arraiolos, Portugal).
• Jazz Money is a writer, filmmaker and educator of Wiradjuri and European heritage. In 2018 she came first in the University of Canberra Aboriginal and Torres Strait Islander Poetry Prize, and was shortlisted for the Nakata Brophy Prize. She was included in the 2019 Australian Poetry Anthology and is a 2019 First Nations Fellow at Varuna, supported by Copyright Agency. Jazz is currently based in Sydney, where she lives and works on the sovereign lands of the Gadigal people of the Eora Nation.
• Kari Lee McInneny-McRae works predominately with sculptural materials, considering the way that materials can be in a state of flux, in parallel to the way that memories change over time. She reconstructs memory through imagery, voice, textures, sounds, sculptures and physical performance. Through abstracting something intangible, such as memory, into a sculpture, she explores how memory can warp with time. Kari Lee McInneny-McRae is a Melbourne-based artist. McInneny-McRae holds a Bachelor of Fine Arts, Drawing from Victorian College of the Arts, a Bachelor of Fine Artin Ceramics from RMIT and Bachelor of First Class Fine Art in Honours at Victorian College of the Arts, University of Melbourne. She has shown her work in multiple galleries across Melbourne including Craft Victoria, McClelland Gallery and Sculpture Park and various artists run initiatives.
• Katie Paine is a Naarm/ Melbourne-based artist and writer whose practice investigates systems of meaning-making, specifically, the role images and language play in constructing narrative. She investigates the acts of speaking, reading and writing: these tools are often used to successfully communicate knowledge but in her work she explores the ways that they can be fallible, porous and mutable. Within her work Paine uses text, drawing, video, assemblage and installation to explore our collective conceptualisation of time and the way systems of meaning-making are culpable of perpetuating fraught narratives, particularly in relation to our understanding of history. In her research, Paine looks at the fallacies of bureaucratic institutions: the way in which they are hostile to living bodies and also the limits of the archive's capacity to communicate lived experience of an event.
Paine has exhibited at c3 Contemporary Art Space, Kings ARI, Seventh Gallery, Channels Festival, Blindside ARI and La Trobe Art Institute.