Exhibits,
Emmaline Zanelli
RIFE MACHINE
Opening: Wednesday 14 February, 6–8pm
Dates: 14 February - 10 March 2018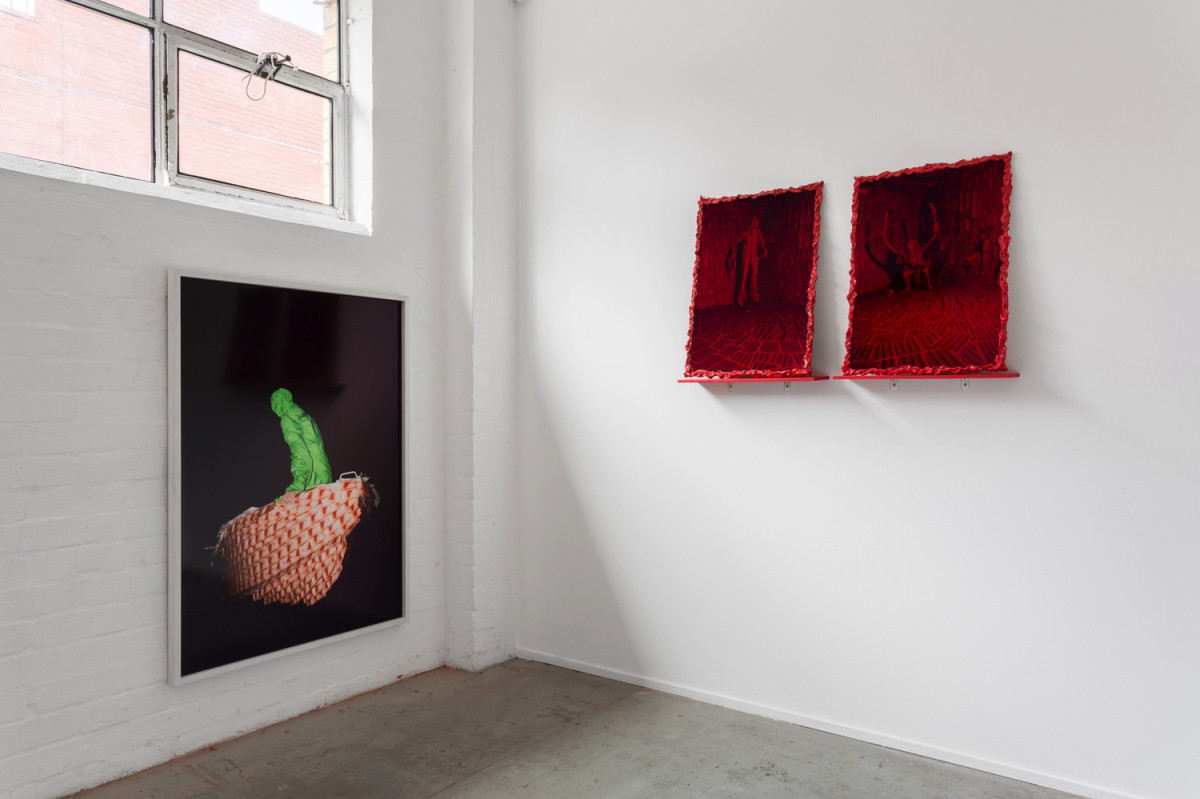 A series of (de)constructed portraits, RIFE MACHINE uses pictures to pull people apart and rebuild them. Press them into new places; test their elasticity - photographs as a magnifying glass, a bandage, a graft, a knife.
Each work in this selection of images from RIFE MACHINE melts, scales, wraps and crusts the body plane and the picture plane together- building intimate sites of participation and control. Sites where siblings, friends, family and lovers relinquish power, and through the process of being photographed participate in obscure enactments of dreams, rituals and rites of passage.
Thousands of 6×4 photographic patches of skin cocoon a brother's fishing boat in a scabbed human shell; keyhole camera images of your own removed fallopian tubes become a ceremonious suit in a homemade womb, making the body whole again; a face of an old teacher becomes an private dance space. Bodies are brought together violently and sensually in one plane of reality, without ever really touching or harming each other in another.
Fantasy and reality are pasted on top of one another, creating mashed images that are visual manifestations of the physical, emotional and psychological spaces between people.
RIFE MACHINE is a search for a way of feeling that swims between real and unreal, domestic and dream.
—
Emmaline Zanelli is an emerging artist based in Adelaide. Zanelli probes the absurdities and sensualities of human connections through a multidisciplinary working process, where the differentiation between object, sitter and photograph is broken down and rebuilt. In 2016, Zanelli was the winner of the Helpmann Academy Watson Award, and was selected by the Perth Institute of Contemporary Art to exhibit in the annual HATCHED National Graduate Exhibition. Recent exhibitions include Please Touch at Stills Gallery and RIFE MACHINE at ACE Across. Artbank Australia, and the City of Adelaide Civic Collection have acquired a selection of her work. In 2017, Zanelli completed an artist residency at the Slade School of Fine Art research centre in London, where her photographic work ventured further into sculpture, performance and video. She works from her studio at Fontanelle Studios in Bowden, SA, and will commence a Master of Photography at RMIT in 2018.
Photos by Christo Crocker