Exhibits,
Lorilee Yang and Julian Bettolli
Romance in the Suburbs
Opening: Wednesday 2 December, 6pm
Dates: 2 – 19 December 2015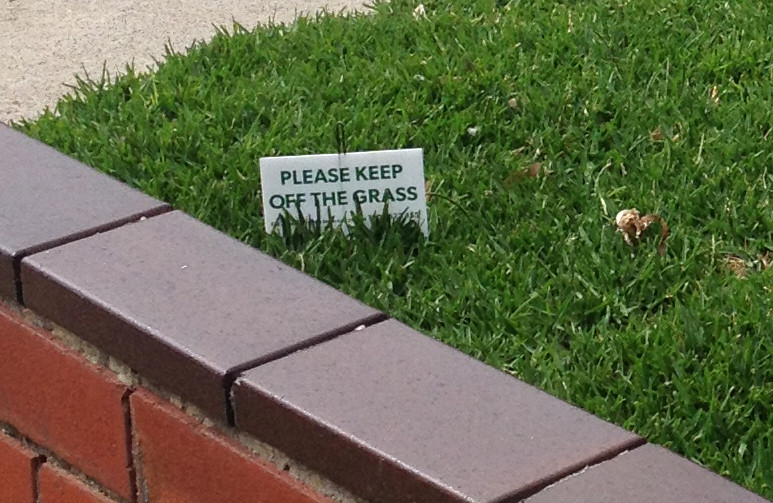 Dopey, Sneezy, Sleepy, Grumpy, Bashful and Happy line up against lace curtains.
Stucco rendered walls with fresh coat of Eucru.
A family of crocs sit on a rack, lilac, hot pink, lime green. baby croc has a flower.
A crazy paved garden path leading to a quaint little pond lined with fibre glass rocks painted dove grey. A miniature well sits in a island in the centre of the pond, obscured by overgrown weeds.
A fountain governed by a stone cherub who holds a vase from which a trickle of water descends toward a bed of dry pebbles.
The Suburb lends itself to voyeurism, ornamentation adorning the windowsills, garden paths, rooftops of brick palaces with formica counter tops. The shift to modern building materials along with the expansion of suburban sprawl hints at visions of an impersonal world; houses not homes. Amidst stock produced canvases the romance of the ornament remains staple even through the translation of the digital and the prefabricated climate. The arrangement and placement of these ornaments is not purely aesthetic, finding their roots in suburban rituals and sentimentality. These are the all too familiar subjects from the suburbia of yesteryear.
Bettoli and Yang have created a new body of work based from explorations through suburbia irl as well as through digital means such as air b'n'b and real estate listings to find clues, ornamentation existing as a nod to sentimentality and romance within the globalising world.
Lorilee Yang currently lives and works in Melbourne. Graduating from the VCA in 2014 with a Bachelor of Fine Art (First Class Honours) Lorilee has had shows as part of the ACCA Upstarts Program and recently had a solo show at Rubicon ARI.
Melbourne based artist Julian Bettolli completed a Bachelor of Fine Arts at the VCA in 2013. Bettoli has since exhibited in group exhibitions at Fort Delta, Goodtime Studios and C3.