Engages,
Arkie Barton, Ruby Brown, Kristy Dickinson, Alexandre Dubois, Tahnee Edwards, Caeylen Fenelon-Norris, Tarni Maddison, Nancy Oziya, Zara Sully
Sewn Together
Opening: Melba Spiegeltent, at the Collingwood Arts Precinct
Dates: Thursday 5th March, 6-9pm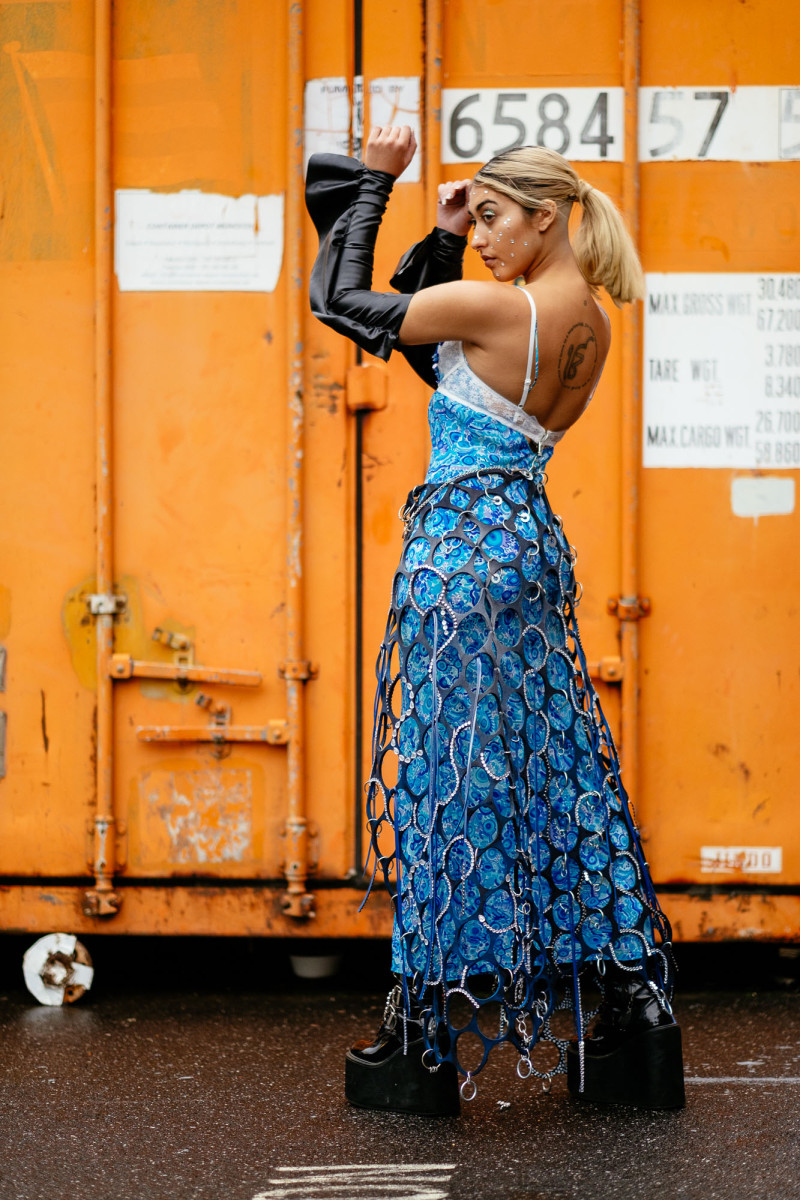 The three garments which create 'Sewn Together' explores themes of iconology, mythology and celebrities. With influences as far ranging as Rhianna, Leonardo da Vinci, Mother Nature, Annie Hamilton, and Hine-nui-te-pō. Each garment has been made collaboratively by three artists and using zero waste, sourcing found materials or fabrics which have been reused and re-purposed. An undertone running throughout this suite of wearable objects is a looking back and looking forward. Seeking advice from legends and tales of the past, whilst looking for leadership from contemporary role models.
'Sewn Together' is a new collaborative project between The Social Studio, Bus Projects and Barpirdhila Foundation which will facilitate the creation of three new garments and a fashion runway. Launched at the Melba Spiegeltent, at the Collingwood Arts Precinct, as part of the Virgin Australia Melbourne Fashion Festival (VAMFF), 2020. This project will bring together a selection of creatives from diverse backgrounds and practices to work, learn, collaborate, share and experiment.
Garment No.1
Strong Woman, River Woman
Ruby Brown, Tahnee Edwards, & Tarni Maddison.
'Yikes…' writes Rihanna, international fashion icon and musician, 'I ran out of fucks to give'. It's this zero-fucks attitude that draws us to her, an unapologetically aggressive yet soulful soundtrack to our art-making. Robyn Rihanna Fenty is known for her fearless high-fashion statements, inclusive make-up brand, bold street wear and mega-sized coats and stoles. Strong Woman, River Woman draws on this aesthetic and combines stories of female figures and ideas from our respective cultures to honour Indigenous matriarchal power.
Waring Bagruk means River Woman in Taungurung language. We celebrate Annie Hamilton, a freshwater river woman who lived in the Riverina district near Balranald during the late 1800s. Annie dedicated herself to keeping Aboriginal communities connected despite the processes of the British invasion; she was famous for helping families survive by visiting white homesteads that had stolen Aboriginal children, ignoring contextual societal expectations, and demanding that the children be allowed to spend time with her. Annie would take the children on slow paddle-steamer journeys along the Murray or the Murrumbidgee so they could visit their communities which kept Aboriginal families strong and connected despite the inhumane treatment by the British invaders. Annie also supervised the births of many Aboriginal children, was recognised by the Victorian Midwives Association and became the first Aboriginal woman to be given a qualification recognised by the state.
The Māori term Mana Wahine honours the power that all women hold and Annie Hamilton expressed through her actions. Mana describes authority, charisma, prestige, integrity, spiritual power and strength, and wahine translates to female. We invite the viewer to reexamine historical and cultural realities of Indigenous women and to identify actions of colonial disruptions to mana wahine. The historical erasure of mana wahine was carried out through male colonisers' penned versions of Indigenous histories and societies; such as the lesser-known Māori goddess of death and the underworld, Hine-nui-te-pō, the Great Woman of the Night who crushed Maui with her vaginal obsidien teeth to end his attempt to obtain mortality for mankind. The symbolism in Strong Woman, River Woman is a nod to Hine-nui-te-pō's strength and unapologetic message, He ai atu tā te tangata, he huna mai tā Hine-nui-te-pō. Humans create; Hine-nui-te-pō destroys.
'I look at me and see art.'—Robyn Rihanna Fenty.
Garment No.2
WATER IS LIFE
Kristy Dickinson, Zara Sully, & Nancy Oziya.
Any proceeds from the sale of this garment will be donated to SEED MOB.
'Water is the driving force of all nature'. In this piece we explore water and its relationship with us from birth, we begin our lives from the sacred watering hole of our mothers belly. The power of water is vital to our everyday lives and the existence on this earth. Using up-cycled plastics we have created a 'Mother of Water' cape which has drops of water connected to an iridescent sheet of fabric. Black tulle shoulder accents to show strength and a beautiful Warrior goddess headpiece made from recycled pieces of iridescent acrylic.
Garment No.3
Untitled
Arkie Barton, Alexandre Dubois, & Caeylen Fenelon-Norris.
The creative collaboration between Arkie Barton, Alexandre Dubois and Caeylen Norris draws inspiration from the power of Mother Earth, the beauty of her Waters and the devastating ecological impacts landfill has had on marine life and the environment.
The final design is comprised of Barton's original artwork, 'Water
Dreaming' printed on a delicate silk chiffon dress, hand painted laser-cut neoprene sourced from mass produced stubby-holder manufacturers to form a structured skirt overlay, ruffled latex gloves from dead-stock material as well as hand-embellished lingerie.
This piece, depicts the fluid nature of water and the inherent energy that it possesses as it travels from sky to land, land to sea. By using man made elements (skirt) combined with natural fibers (silk dress) we want to communicate both the devastating effects of human beings on our waterways, but also the hope and possibility of reversal, by creating something beautiful and fluid out of something stark and constructed.
Arkie Barton
Arkie Barton is an emerging artist, fashion and textile designer, currently living in Naarm/Melbourne. Arkie is a proud Kalkadungu woman, whose art practice draws from her Indigenous heritage to create beautiful contemporary pieces across multiple disciplines. Painting from age 5, she has held many exhibitions and collaborations over the years, building up to her current diversification of creative practice. Arkie created her self named clothing label Arkie the Label in 2015 as a platform for mainstream Australia to engage with contemporary Aboriginal culture through a creative form everyone must interact with, fashion.
Ruby Brown
Ruby is of Māori (Ngā Puhi) and Pākehā descent and was born in Dunedin, New Zealand. She studied at Victorian College of the Arts and lives and works in Melbourne. Ruby's practice spans sculpture, video and painting. Her work explores the fleshy weight of boundaries, lines and spaces and fibrous unions between anthropological ideas and materiality.
Kristy Dickinson
Kristy Dickinson is a Wiradjuri designer and self-described Queen of Bling, who has been making jewellery for over 18 years. In 2015 she started her business 'Haus of Dizzy' specializing in bright, oversized statement jewellery pieces incorporating elements of female empowerment and pride in her Indigenous heritage. Through her pieces, Kristy shines a light on political, Queer, Indigenous, environmental and feminist issues.
Haus of Dizzy has been worn by Miranda Tapsell, Nakkia Lui, Dan Sultan and other high profile clients. The range is stocked in stores throughout Australia including the Museum of Contemporary Art, Museum Victoria, and overseas in America's cult fashion store, Dolls Kill.
Alexandre Dubois
Alexandre Dubois is the founder and director of FAINT - a proudly independent creative agency specialising in photography, community-driven initiatives and events showcasing and supporting LGBTQIA+ identifying artists working under the collective umbrella of sound, music and live performance. With roots in publishing, FAINT was initially established in 2010 as an avant-garde fashion & art publication dedicated to supporting emerging, independent and established artists alike and saw itself stocked globally in all major capitals including New York, London, Tokyo & Paris.
Throughout the years, FAINT has featured and interviewed a slew of multi-disciplinary artists including the likes of Erwin Olaf, Aoi Kotsuhiroi, Synchrodogs, Akira Isogawa & Sam Jinks, to name a few. To this day, FAINT continues to be spearheaded solely by Alexandre Dubois.
Tahnee Edwards
Tahnee is a Yorta Yorta and Taungurung woman who launched her label Gammin Threads in 2018. Inspired by a love of typography, language and blak pride, the label consists of deadly chillwear for mob who believe in living colourfully, paying respect and empowering women.
Caeylen Fenelon-Norris
Caeylen Fenelon-Norris is a visual artist who makes paintings and sculptures referencing architecture, social constructs and the reliance on our built environment. Using motifs from the outside world, his work immortalises the ordinary and gives space to the unsolicited with art that honours the detritus of life. Bringing existence to concepts of time, momentum and eternity and things that escape our perception on a daily basis. In 2019 Caeylen will complete a Bachelor of Fine Art in Painting at the Victorian College of the Arts. His work has been shown across Australia, exhibitions include, Sprawling knits curated by Christopher LG Hill, Garage Sale; Ask the price of things before touching them, Public Office; as well as various other group shows.
Tarni Maddison
Tarni is a Djab Wurrung and Gunditjmara fashion designer based in Ballarat. Inspired by modern garments and traditional practices, Tarni gives her pieces a native twist, often using possum furs and emu feathers, to fuse contemporary design and indigenous materiality.
Nancy Oziya
My Design references my African cultural heritage, the prints I use are bright and bold but I like to insert some Australian playfulness into my design, whether it's an unexpected ruffle or hemline. I like the idea of design that is simple yet different. Something that links to Africa, in all its incredible diversity, but sits in a different cultural setting. I think fashion can start new conversations, and I want to communicate who I am as an African-Australian through my designs.
Zara Sully
Zara Sully is a queer-identifying, multi-disciplinary, photography-based artist. They hold a Bachelor of Fine Arts (Hons). Sully's practice explores the queer experience through a contemporary lens, with a focus on queering the mundane. Recent exhibitions include I Want to Believe at Trocadero Art Space (with Penny Walker-Keefe) and Mother at Bus Projects (2019). In 2020 Sully will present their first curated exhibition, Yours, Queerly at Sawtooth ARI in late-2020.
Bus Projects
Bus Projects is an artist-run organisation dedicated to supporting the critical, conceptual and interdisciplinary practices of Australian artists. In addition to its core gallery-based program of exhibitions, events and residencies, Bus Projects collaborates with a range of artists and arts organisations to produce projects off-site and within the public realm.
The Social Studio
The Social Studio is a grass-roots not-for-profit social enterprise established in Collingwood in 2009, dedicated to creating long-term and rewarding pathways into education and employment for young people from a refugee or new migrant background. Our ethical and sustainable business model uses the vehicle of fashion - including a fashion school, fashion label, ethical clothing manufacturing business, and retail store - to create meaningful social change.
Over the last decade, The Social Studio has supported over 780 people from refugee communities in training and work programs, and has become a fundamental part of inner Melbourne's diverse cultural and fashion landscape.
Barpirdhila Foundation
The Barpirdhila Foundation (Barpirdhila) exists to develop, nurture and support Aboriginal excellence within the arts and music sectors by creating spaces, opportunities, and programs for emerging and established artists. The programs are focussed nationally, and reflective of the needs of Community. Barpirdhila has a major focus on supporting Aboriginal women and girls, especially in the music and fashion industries.
VAMFF
The Virgin Australia Melbourne Fashion Festival is an annual celebration of fashion, arts, ideas and creative endeavor for everyone to enjoy.
The Festival presents the country's largest fashion event including
world-class runway shows featuring Australia's established and emerging designers, state-of-the-art production, beauty workshops,
retail events, industry seminars, forums, live entertainment
and much more.