Exhibits,
Lydia Wegner
SILVER SHADOW
Opening: Wednes
Dates: 10 - 27 August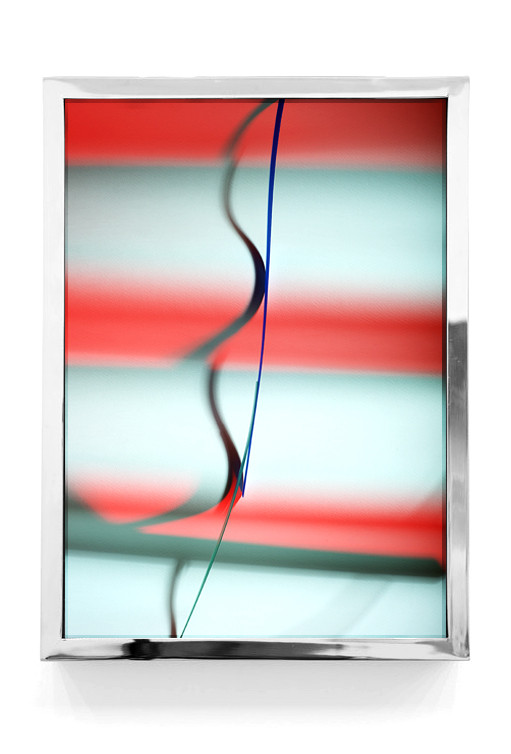 GALLERY 1 & GALLERY 3
Wegner's most recent work reflects her ongoing inquiry into staged photography and visual abstraction. These playful images combine striking colour backgrounds alongside warped paper, coloured lighting and angular shadows. Through play and moments of chance, these simple materials form a questionable reality, seemingly flat and weightless something looks familiar yet so far removed.
These works are extended in aluminum frames. The highly polished and smooth surfaces complement the precise angles and the unfolding illusion of the image itself.
Wegner's work begins on the studio tabletop. Objects and materials are meticulously stacked, stuck and leaned against one another to form momentary assemblages. White and coloured lighting is introduces to create shadows, sharp lines and bold colours. The camera cements this moment while also capturing the tension between materials and visual unknowns. Through the bouncing of light and colliding colours, new visual abstractions emerge.
Graduating with Honors at Victorian Collage of the Arts in 2011, Wegner has since exhibited in a number of solo and group exhibitions, including 'Melbourne Now' at NGV, Centre of Contemporary Photography and solo exhibition Assembled Colour at Arc One Gallery. Wegner has also attended the Hill End Artist Residency in Regional NSW, she is represented by Arc One Gallery.
This project forms part of Bus Projects' 'With compliments series', exploring how Australian artists locate their work within an international dialogue. 'With compliments' examines the relationships between artists and their influences across generations and geographical borders, looking at how these influences can remain a vital force throughout an artist's career. As part of Wegner's exhibition 'SILVER SHADOW', a work by Chicago-based photographer Barbara Kasten provides a reference point to Wegner's own imagery, highlighting the tangential relationship between both practitioners.
The 'With compliments' series focuses the work of 3 early-career Australian artists: Lydia Wegner, Sean Peoples and Noriko Nakamura.