Exhibits,
Eloise Kirk
Smoke Follows Beauty
Opening: Wednesday 11 November, 6pm.
Dates: 11 – 28 November 2015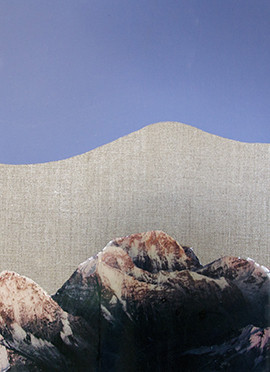 Smoke Follows Beauty is a quixotic exploration of the human connection with nature, survival and the loss of the sublime. Kirks practice oscillates between methodology and subject, drawing on the surreal nature of assemblage and collage and testing the boundaries between the romantic and the strange. Kirk draws on the relationship between antiquated art forms and the subject of landscape, geology and alchemy, forging connections between discarded images, fetishising and fictionalising landscapes, proliferating a tangled narrative and the colonisation of images and objects.
Kirk composes fragmented, and mysterious objects that are both connected to and displaced from their original context, sensitive to the idea that thought will embrace a geographical space in such a way that, regardless if it is real or fictional, this space becomes a product of human thought.
Since studying at Sydney College of the Arts – achieving a Bachelor of Visual Arts (hons) and a Masters of Visual art –Kirk has exhibited her collage, painting and sculptural works across Australia and New Zealand, having held solo exhibitions at Artereal Gallery Project Space, Sydney and Gallery 9, Sydney, as well as group shows at Blindside Gallery, Melbourne, Christchurch University Gallery, New Zealand, and Rosyln Oxley9 Gallery, Sydney.
Eloise Kirk has been awarded numerous residences, including the 2014 Art Gallery of New South Wales' Cité Internationale des Arts Residency in Paris, the 2013 Frazer Studio Residency and the 2014 Artist in Residence at the Tasmanian School of Art.
Kirk has forthcoming solo exhibitions at 146 Art Space, Hobart and Chasm Galley, New York.