Exhibits,
Madeleine Preston
Tanagras Archive
Opening: Wednesday 8 June, 6-8pm
Dates: 8 – 25 June 2016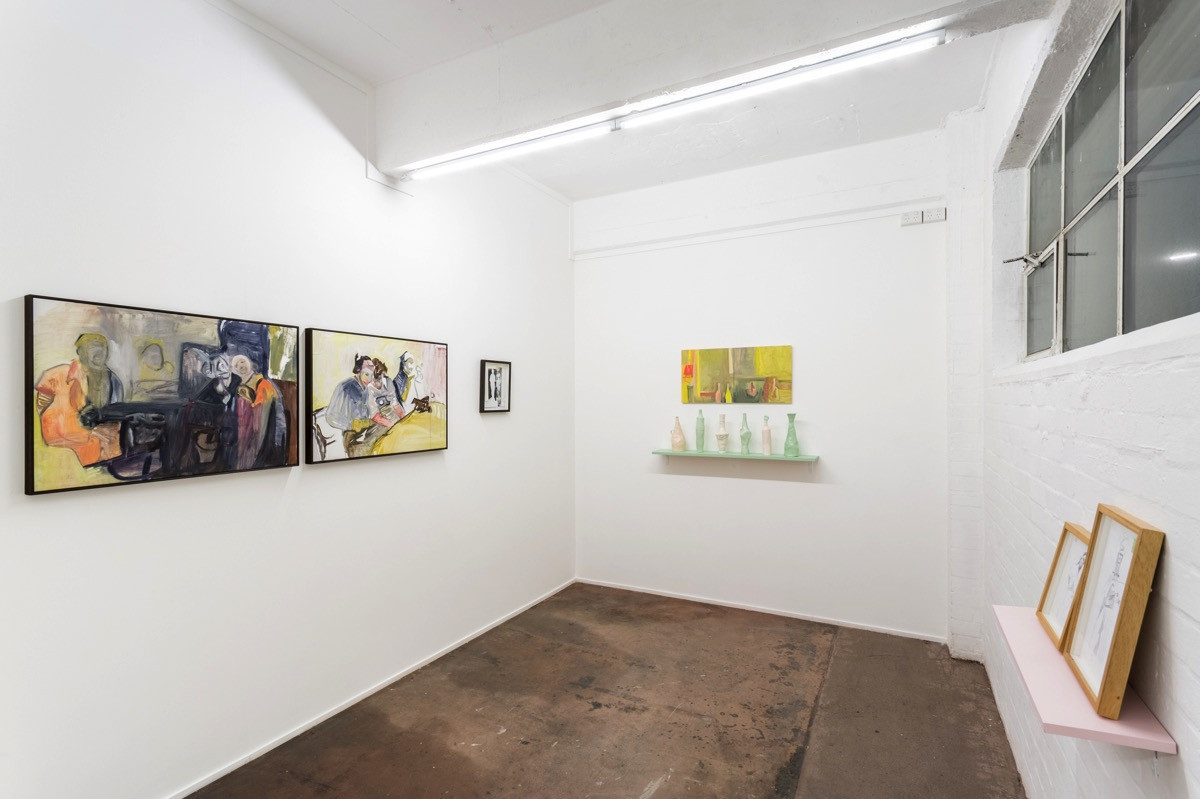 The works in 'The Tanagras Archive' are based on the Louvre's Tanagras collection. Upon their initial unearthing, these ancient Greek statuettes were coveted by France's bourgeoisie, as they were affordable symbols of wealth and taste. I used my limited skill as a ceramicist to create rough approximations of the sophisticated Tanagras figurines and classical vase forms.
The Tanagras Archive includes a series of objects including urns and trophies that suggest both archaeology and an individual's collection. Museum display conventions, where painting and ceramics from different eras are shown in one space, allow my work in a variety of media – ceramics, oil paintings, drawing and installation – to co-exist in a recognisable format.
The series of paintings 'Tanagras Archive: The Discreet Charm of the Bourgeoisie' shows bourgeois interiors where either meals or celebrations take place. Figures, when they appear, are often ghostly, and reference a culture where gourmandising takes precedence over social and political issues. They are anxious faded signs of all that is obscured by polite dinner conversation and the trappings of bourgeois culture.
Madeleine Preston is a Sydney based artist and tutor at UNSW Art & Design. She has a Master of Fine Arts from RMIT and is a director of Home@735 Gallery. Preston works with archival materials including photos, everyday objects and paintings to create installations that suggest alternative histories. The installations use temporary display conventions such as shop-front signage, posters, mock social media pages and projections along with more traditional display methods and media such as painting and ceramics.
Preston's paintings have developed over more than 20 years from thick impasto surfaces to the current almost water colour use of oils. In 2014 she undertook an artist residency program run by Lynda Draper at Gymea TAFE. Since then she has continued to work in ceramics. Her ceramics suggests both folk ceramics in their execution and archaeological display when exhibited.
Preston has exhibited widely and recent exhibitions include 'on this day alone'-Octopus 13 curated by Glenn Barkley, at Gertrude Contemporary, 'Glazed and Confused', curated by Lynda Draper, at Hazelhurst Regional Gallery, Sydney, 'Bookmarked' at Stills Gallery, Sydney and Outsiders, 'Imposters & Aliens', curated by Bev Shroot & Louise Thoeming, Dominik Mersch Curators Award, at Domink Mersch Gallery, Sydney. In 2016 she will exhibit ceramic work as part of the Glenn Barkley curated TACA Biennial show Over Under Sideways Down at Manly Art Gallery and Museum.
Web http://www.madeleinepreston.com.au/
All photo Credits: Christo Crocker