Exhibits,
Nicky Broekhuysen and Joseph L. Griffiths
The Beach II
Opening: Wednesday 18th of January, 6-8pm
Dates: 18th of January – 11th of February, 2017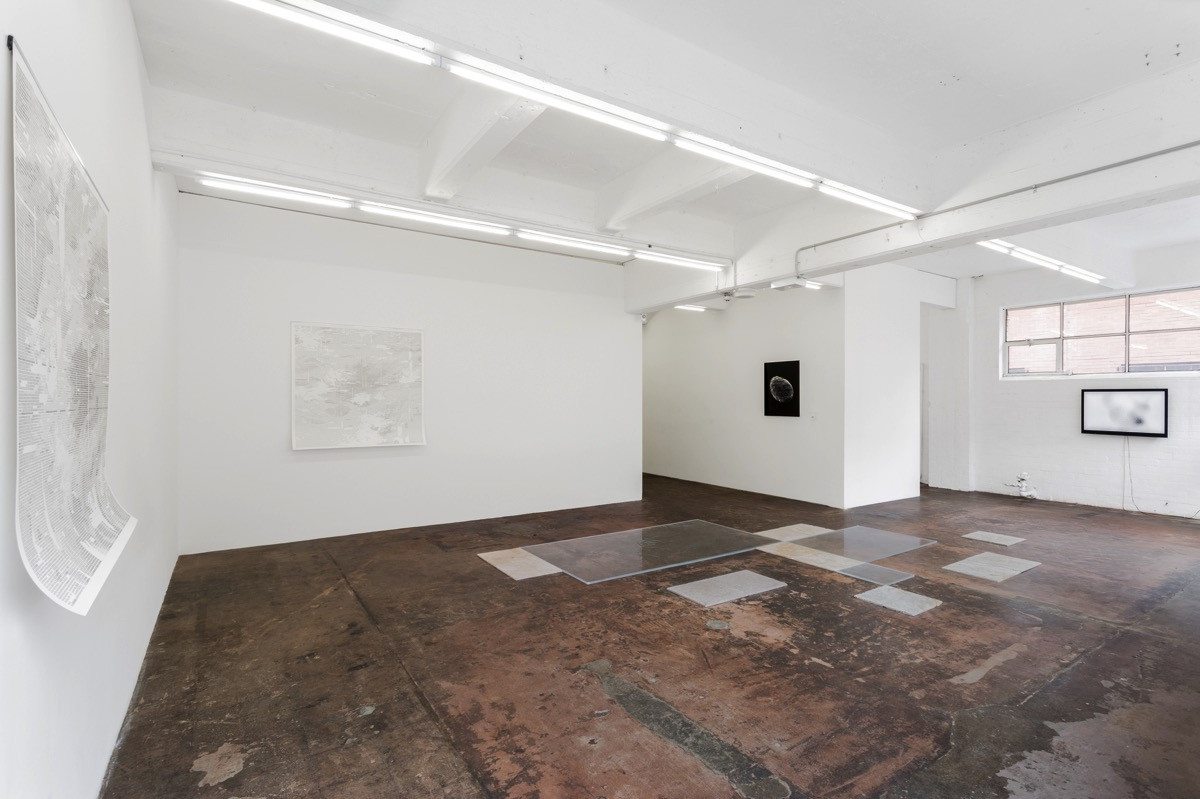 'The Beach' is a two-part exhibition project of unique works by Nicky Broekhuysen [Berlin] and Joseph L. Griffiths [Melbourne], brought together by Berlin based, Melbourne born curator, Sarah E. Davies, made anew, specifically for the individual exhibitions and in response to their sites. The project saw its first iteration in Berlin at Centrum Art Space in July - August, 2016. The exhibition at Bus Projects in Melbourne, in January - February, 2017 is the second and final exhibition of the series.
Nodding to the poetic call to arms of 1968, 'Sous les pavés, la plage!' [Beneath the paving stones, the beach!], the exhibition considers the unearthing of this binary notion against our current social and material structures. This adage signified a nostalgia for an untouched paradise to which humanity might return - suggesting that the possibility to retreat was but a stone's throw away. Today, this substrate cannot be separated from its urban counterpart. We can no longer understand nature as over-there, or that the human impact has had no permanent repercussions. For this exhibition series, the artists have imagined 'the beach', the binary relation between nature and culture and the individual's relation to it, as an expanded concept, following geological, archaeological, historical, digital and phenomenological lines of inquiry. It is understood both as a symbol of natural and temporal cycles and a threshold of transition between surface and substrate, image and information, virtual and physical domains.
Griffith's 'Fountains' focus on the geological formation of Travertine, a terrestrial sedimentary rock formed by the precipitation of carbonate minerals in ground and surface waters. Through this material investigation, Griffiths re-articulates the historic fountain as an ecosystem where cycles of growth and decay constantly transform these monuments to our most precious natural resource. Griffiths' elemental reduction of the fountain, to an almost invisible basin and a few roof leaks within the gallery, alongside the travertine tiles, dispersed around the water catchments mark both momentary and deep time.
Exposing the digital building blocks of information 1 and 0 from behind the glow of the computer screen, Broekhuysen reveals today's information based world as a series of abstract constructions and shifting territories, where we find not only our connectedness to the world but also increasingly, our isolation from it. The title for the works, 'The Map Is Not The Territory', a quote taken from Alfred Korzybski's book, 'Science and Sanity', 1933, can also be understood in Broekhuysen's large digital landscapes as 'the information is not the belief that we construct from it'. Belief systems, formed from ideas, spawned from information are constructed territories with impermanent borders, much like the societies that are shaped from them. Such systems and territories are also not finite, as the maps which Broekhuysen has painstakingly hand stamped depict, they ebb and flow freely, at once reminiscent of a weather chart, land formation, or matrix.
'Sediment', deepens Griffith's material investigations into the geological substrate. Grinding electronic waste material procured from landfill into particle form, Griffiths then submitted the amalgam to heat and compression, manually fast-tracking their geological transformation underground. Employing a Scanning Electron Microscope, he render's these new compounds visible to the viewer, magnifying the encrusted surface of a single particle composed of oxygen, silicon, lead, magnesium, aluminium, carbon, iron, titanium, potassium, sodium, and calcium. The resulting image captures a moment in the human co-production of 'nature'.
'The Stonebreakers' is Broekhuysen's video work entitled after Gustav Corbet's painting of the same name from 1849, depicting two peasants, wielding sledgehammers, breaking stones on a country road. Courbet's painting sought to break down the social and political constructs of the time. The Digital Revolution of our era has once again created a monumental moment of change, where nothing can remain static. Societal systems, structures, ideas and beliefs, must remain open and dynamic ready to be questioned, developed and re-built, toward a dynamic state of change where nothing is set in stone and everything is constantly evolving, much like the drop of water, which excavates the stone.
'The Stonebreakers' was developed in collaboration with Maria Kamutzki and Martin Keane.
A catalogue will be published after both iterations on the occasion of the exhibitions by Vexer Verlag, Switzerland.
Nicky Broekhuysen *1981, Cape Town; holds a Bachelor of Fine Arts from the University of Auckland, New Zealand; lives and works in Berlin; She has exhibited in China, Canada, Turkey, Abu Dhabi, South Africa, Germany, New Zealand and the USA including Neurocartographies, Museédes Beaux-Arts, Quebec, CA [2011]; Shifting Knowledge, WhatIfTheWorld Gallery, Cape Town, ZA [2012]; Potency Filled Things, Dittrich & Schlechtriem, Berlin, DE [2013]; The Stonebreakers, Blok Art Space, Istanbul, TR [2015]; The Mediators, Davidson Contemporary, New York, USA [2016]; The Digital Archeologist, The Bumiller Collection and The Museum of Islamic Art, Berlin, DE [2016]
Joseph L. Griffiths *1984, Melbourne, holds a Bachelor in Fine Art from the Victorian College of the Arts, University of Melbourne, Australia, and is currently a Master of Fine Art Candidate at Monash University School of Art Design and Architecture; He lives and works in Melbourne; He has exhibited throughout Europe and Australia including 'Improvised Architecture', PAF Institute, FR [2011]; 'What Am I Doing Here', Esbjerg Kunstmuseum, DK [2013]; 'Drawings', Station Gallery, Melbourne, AU [2014]; 'Ruins', 19th Biennale of Sydney, AU [2014]; 'June Mostra', British School at Rome, IT [2016]; 'Art Club#9 – Bois D'amour', Villa Medici, Rome, IT [2016]; 'About:Blank, MACRO' – La Pelanda, Rome, IT [2016]
This project is supported by the Australian Government through the Australia Council, its arts funding and advisory body.
Photography by Christo Crocker.