Exhibits,
Abbra Kotlarczyk and Kate Hill
the scribe notes, slight
Opening: Wednesday 8th of June, 6–8pm
Dates: 8–25 June 2016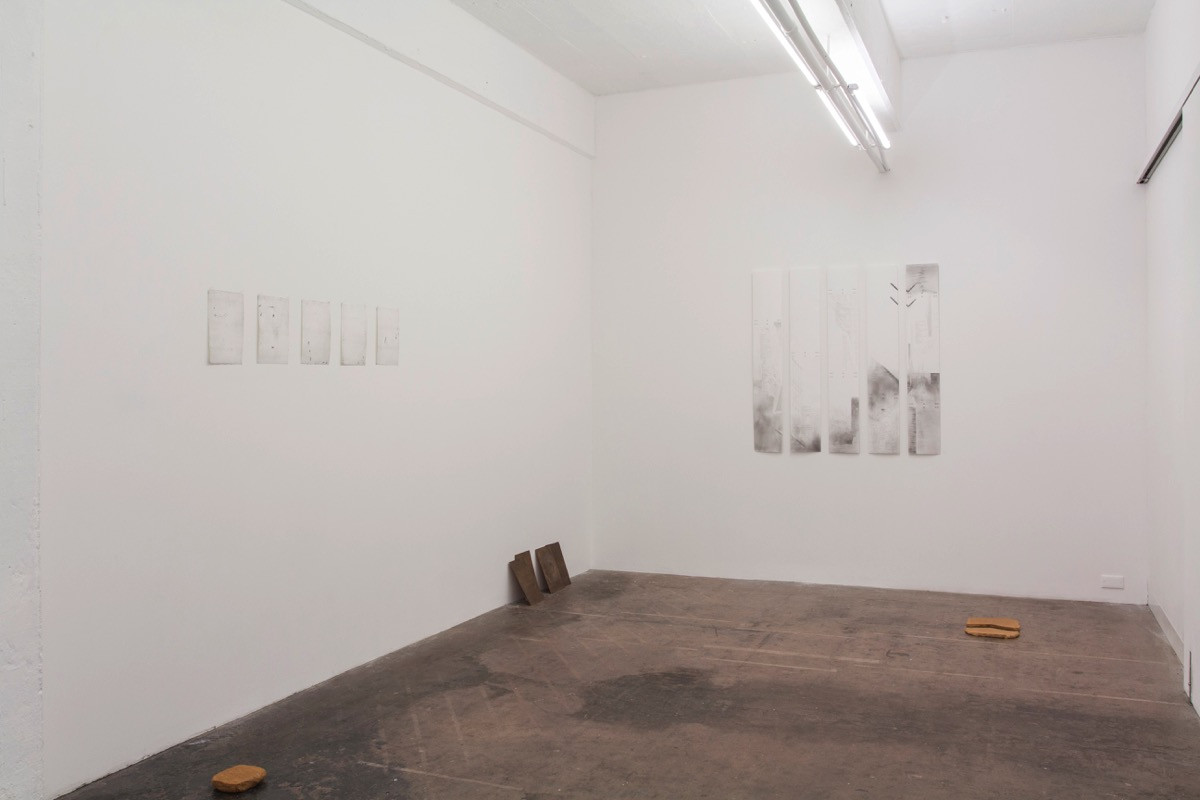 'the scribe notes, slight' brings together new works by Melbourne-based artists Abbra Kotlarczyk and Kate Hill. Working across printmaking, poetry, drawing and ceramics, this pairing considers how traditionally held minor forms (as correlative to minor narratives) might function as a dialogic for spatial engagement.
Hill draws on a repeated ritual of her practice in which vocabularies of marks are stored through the incidental rubbing of copper plates located in her backpack during walks. This series aligns to Bogong Village, Victoria where she recently undertook a residency. For Kotlarczyk, traditions of marginalia and research into the body politic inform a suite of sculptural, contoured visual poems that notate responses to various public conversations being had over a five-month period is 2015-16.
While these approaches reveal quite disparate modes of spatial translation— incorporating both chance and intentional writing across environmental and socio-political zones—they are analogous in their attention to the body as a kind of auto-scribe. This exhibition signals the coming together of two years working out of a shared studio in Brunswick, tracing some of the broader
conversations that have transpired within and around the space during this time.
Abbra Kotlarczyk's practice is hinged on visual and linguistic articulations of subjectivity, trans-historicism and expanded notions of publication. She has participated in solo and group exhibitions at North Projects (NZ), c3 Artspace, TCB, Lindberg Galleries (Aus) and AIRY Gallery (Japan). Her essays and reviews have been published by Transgender Studies Quarterly (Duke University Press, USA), un Magazine and Das Platforms (Aus).
Kate Hill's practice explores a temporal engagement with place, utilising site- specific materials such as earth and water with photography and video to express local contexts. Recent projects and exhibitions include Fed, Watered, Bogong Centre for Sound Culture; Digging, Eltham Library Gallery; TRIBUTARY, c3 Artspace and Oharai (Chemin du Bonheur, Japan). Her academic research has been published in Unlikely Journal (Aus) and Parse Journal (Sweden).