Exhibits,
Brooke Ferguson and Erika Scott (Scott Ferguson)
Two Souls Speakers
Opening: Wednesday 18 May, 6-8pm
Dates: 18 May – 4 June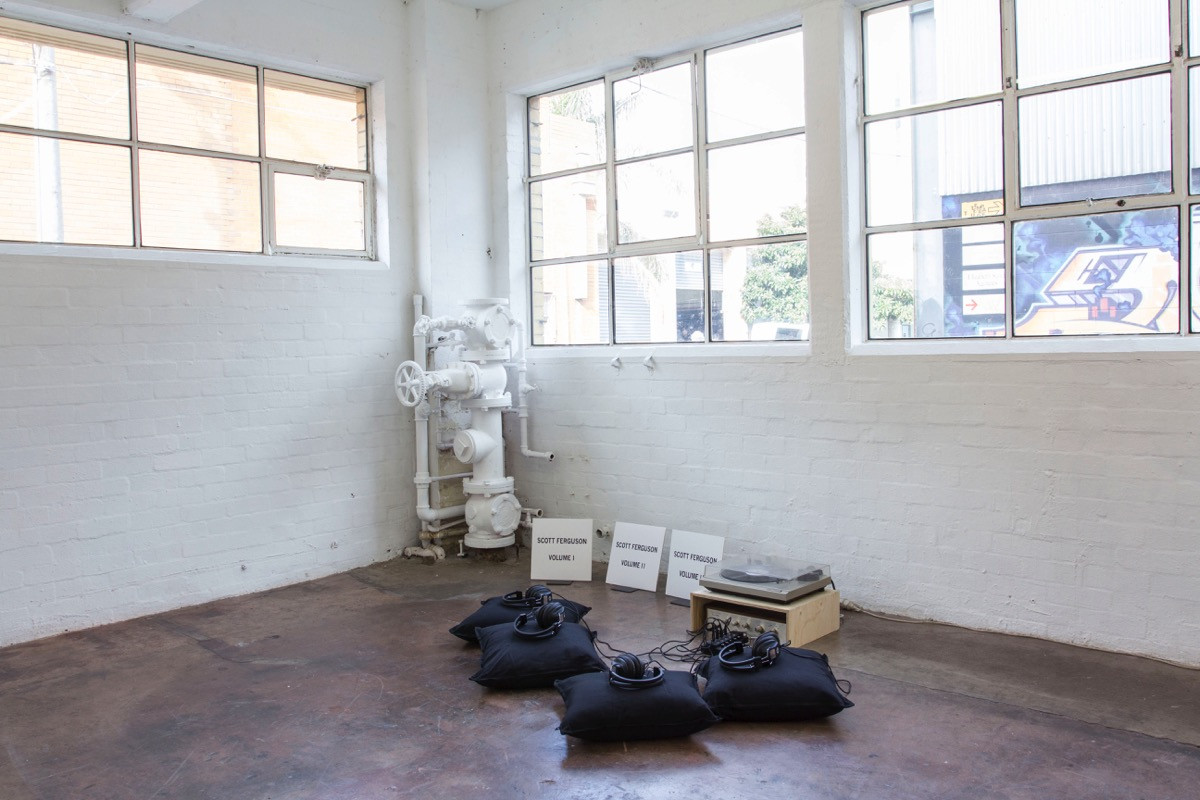 'Two Souls Speakers' includes collages by Erika Scott, drawings by Brooke Ferguson, and vinyl records featuring collaborative sound work as Scott Ferguson.
Erika Scott's collages form part of an ongoing body of work made through processes of tearing and binding photographs in an effort to bring to mind shifting psychological points-of view and fragments of time. These collages deal with interiors, the domestic, and aquascaping, in an attempt to suspend or slow processes of perception. 

Brooke Ferguson's abstract drawings on paper use chance based strategies and simple everyday objects to form the basis of the compositions. The works form part of an ongoing series that explore drawing as inscription, notation, and score. Following on from Fluxus, these works examine how drawing can be transformed through working with objects, images and sound.
Brooke and Erika first came together as Scott Ferguson to investigate how their individual practices differed on many levels yet have a shared affinity for absurdist humour, and an interest in unpacking what it means to identify with feminism/s. The vinyl records feature their collaborative experiments of live performance, music, and spoken word. Scott Ferguson first performed live at the Institute of Modern Art's 40th Birthday party celebrations in 2015.
Erika Scott completed a Bachelor of Fine Arts (Visual Art) with Honours at the Queensland University of Technology in 2010, and was a founding director of the Artist Run Initiative 'Accidentally Annie St Space' in Brisbane. She has exhibited at Artist Run Initiatives including Screen Space in Melbourne and Boxcopy in Brisbane. Scott is participating in the emerging artist category of the 2016 Redlands Konica Minolta Art Prize.
Brooke Ferguson is a visual artist currently based in Brisbane. Ferguson graduated from the Queensland University of Technology with a Bachelor of Fine Art (Visual Art) with Honours in 2011. She has exhibited at Boxcopy, LEVEL, No Frills*, inbetweenspaces, Accidentally Annie Steet, Blindside and Inflight. Ferguson was Metro Arts' 2012 Artists in Residence, and QAGOMA's 2015 Melville Haysom Memorial Art Scholarship recipient.