Engages,
Nithya Iyer
Vengayam
Dates: Sunday 7 April 4 - 6pm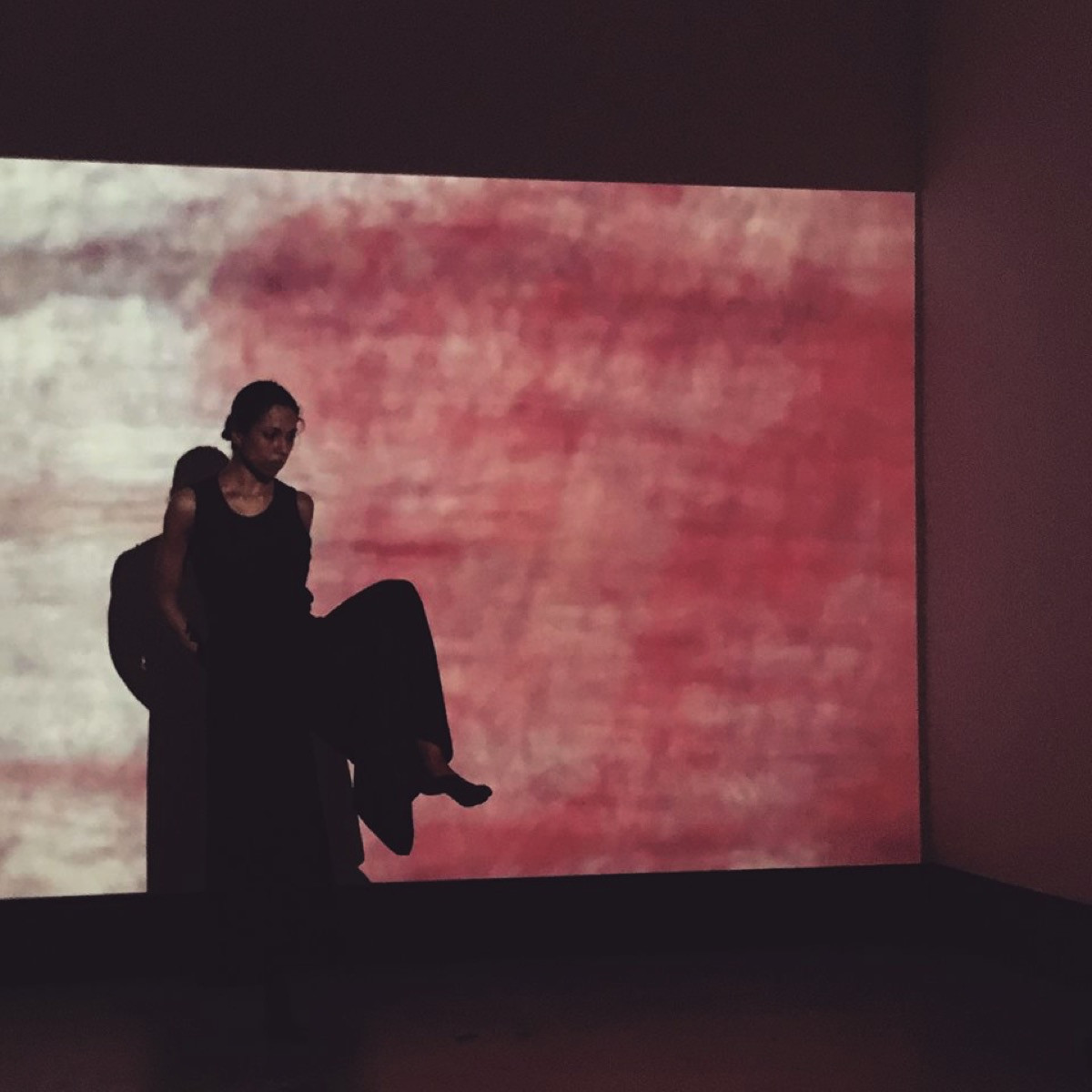 Please join us at Bus Projects for 'Vengayam' a performance installation by Nithya Iyer and in conversation with Dario Vacirca.
Vengayam ('ven-gaah-yum') – meaning 'onion' in Tamil – is a performance installation that investigates the constructs of identity as traced through the signifiers of citizenship, migration and nationalism. Exploring transnational sources of ideology that govern the dictates of 'Indian-ness' against the expectations of the assimilated model minority, the work aims to articulate how individual identity is susceptible to the dictates of political and cultural hegemony.
The form of the work aims to activate emergent meanings and aesthetic qualities by inserting the artist in between and in response to the moving image and audio of an essay written and read by the artist combining critical theory and first-person narrative. The actions of the body shift between improvisation, somatic response, and strictly articulated choreography, testing the boundaries of working in relation to and in abstraction from the composition of the traditional video-sound format.
The content presented in this work is drawn from the artist's personal experience, as well as research into South Asian feminist writings on post-colonial identity-making in India and Indian diasporas living in Western democracies. These include
  Partha Chatterji, The Nationalist Resolution of the Women's Question, Chapter 1, 'Recasting Women: Essays in Colonial History', Centre for Studies in Social Sciences, Rutgers University Press, 1989

Dr. Priya Srinivasan, Sweating Saris: Indian Dance as Transnational Labour, Temple University Press, 2011
Nidhi Shrivastava, The Progress of Indian Women from 1900s to Present, University of Connecticut, 2009
Nithya Iyer is a Melbourne-based researcher, writer and performer of South Indian Tamil-descent. Her work explores the application of somatic, psycho-spatial and socio-political ideas to experimental live art processes. She has presented her work at festivals in Victoria and Queensland and her writing appears in Peril magazine. Nithya was trained for 12 years at the Chandrabhanu Bharatalaya Academy of Indian Dance in the forms of Bharatanatyam and Odissi. She is a founding member of the L&NDLESS arts collective and is currently undertaking her Masters in Therapeutic Arts Practice at the Melbourne Institute of Experiential and Creative Art Therapy.
Dario Vacirca has worked extensively as an artist, artistic director, facilitator and arts manager across Australia and internationally since 1999. He was appointed Artistic Director of OSCA (Open Space Contemporary Arts) in South Australia from 2012 to 2015, and prior to this directed intimate and large-scale shows including the interdisciplinary, transnational, collaborative artwork Great Wall of Books. GWB toured Australia, Korea, Mexico and Macau SAR China before setting up as a permanent installation at Falls Festival, Victoria. Dario operates freelance across networks in Australia, Asia and Europe, and is currently expanding his research practice into Critical Dreaming and Politically Engaged Practice through doctoral studies at Deakin University.
RSVP here: https://www.eventbrite.com.au/e/vengayam-by-nithya-iyer-tickets-58347415691