Exhibits,
James Ashley, Alex Bienstock, Bradford Kessler, Adam Lehrer, Emily Ličen, Charlie Robert, Samm Sutton, Chelsea Young
With energy stolen from the bohemians who decorate the room
Opening: September 21, 6-8pm
Dates: August 31-September 23, 2023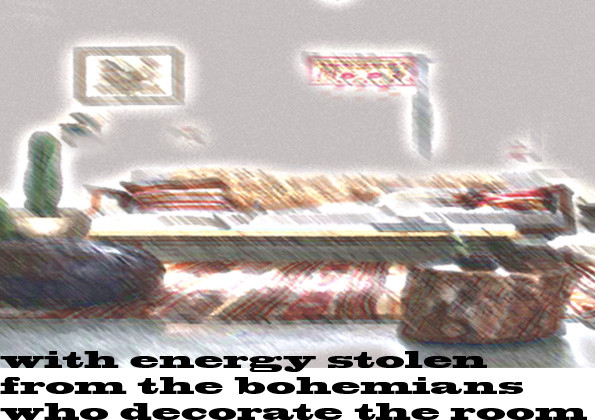 In the beginning, there are sounds of metal. A muscle, an image, a flutter in the gut. It could seem complicated but is actually quite simple. Very interesting things happen when you plug your snake oil into the wall. All you need is mains power and a little bit of hope.


Read the exhibition response by Maggie Kontev & Tarquin Charlesworth
James Ashley is a Melbourne Based artist. Their practice is concerned with the way images, narratives and symbols, already rich with associations, can be transformed through combination, arrangement and poetic/material intervention.


Alex Bienstock, 1987, grew up in West Orange, NJ but was born in NYC and now lives in Brooklyn. He works with images, objects, video, sound, curation, social media, text, books, and live performance, yet doesn't really distinguish those things from everyday public and private life. He's released three books with Contain, Safety Propaganda, and Memory Pill and has been published in Art in America and Cultured Magazine, as well as participating in solo and group exhibitions all over the world, including Italy, UK, Germany, Switzerland, and Australia. He has also been in screenings at Cinema Village and Anthology Film Archives in NYC, as well as performing at the Queens Museum. Attitude, collaboration, and the celebration of both aesthetic and non-aesthetic variety are his main priorities. His studio is placeless, his thoughts are nomadic, and his beliefs are heretical.


Adam Lehrer is a writer and an artist living in New York. He is the founder and co-host of the System of Systems podcast, and the founder and curator of the Safety Propaganda collaborative media platform. He is the author of two works of fiction and one pseudo-philosphical manifesto. As a writer, Lehrer covers topics such as contemporary art, horror fiction, noise and experimental music, cinema, and politics. He has been published by Compact Magazine, Autre Magazine, Caesura Magazine, Numero Berlin, Mute Presence, The Quietus, Filthy Dreams, SSENSE, i-D, and more. As an artist, Lehrer's works with collage, photography, and video montage.


A conceptual noise rock project by Alex Bienstock and Adam Lehrer, Botched Chadification is a return to vainglorious rock n' roll. It is a resurrection of a moment when rock music expressed the divine will of the phallus. We hereby rejoice and celebrate all men who will do anything to be CHAD's, even if it means BOTCHING themselves in the process. BE A CHAD GET BOTCHED AND DIE, that's the truth of the matter.


Charlie Roberts' practice fuses high and low cultural signs and signifiers into objects of confusion. By amalgamating the different readings that are imbedded in popular materials, objects and images, he creates uncanny relationships. Through these recontextualizations, models of consumption and their effects on our contemporary moment are explored, such as the infinites of the digital image, material waste and subliminal influence. What form out of these experiments are wall mounted sculptures that also speak to the conventions of expanded painting.


Emily Ličen is a fashion designer who lives and works in Melbourne, Australia. Her practice organises around fashion performance, choreography and image making. Emily's work has been exhibited as part of The Costume Institute at The Metropolitan Museum of Art (2019 and 2021) and MoMA PS1 (2019), New York City.


Samm Sutton is an artist and curator working across sound, sculpture, text, video and installation.


Chelsea Young (b. 1999 Wodonga, Australia) is an artist working across painting and sculpture in Melbourne.