Engages,
Shelley Lasica
Associate Program
Dates: November 2019 - March 2020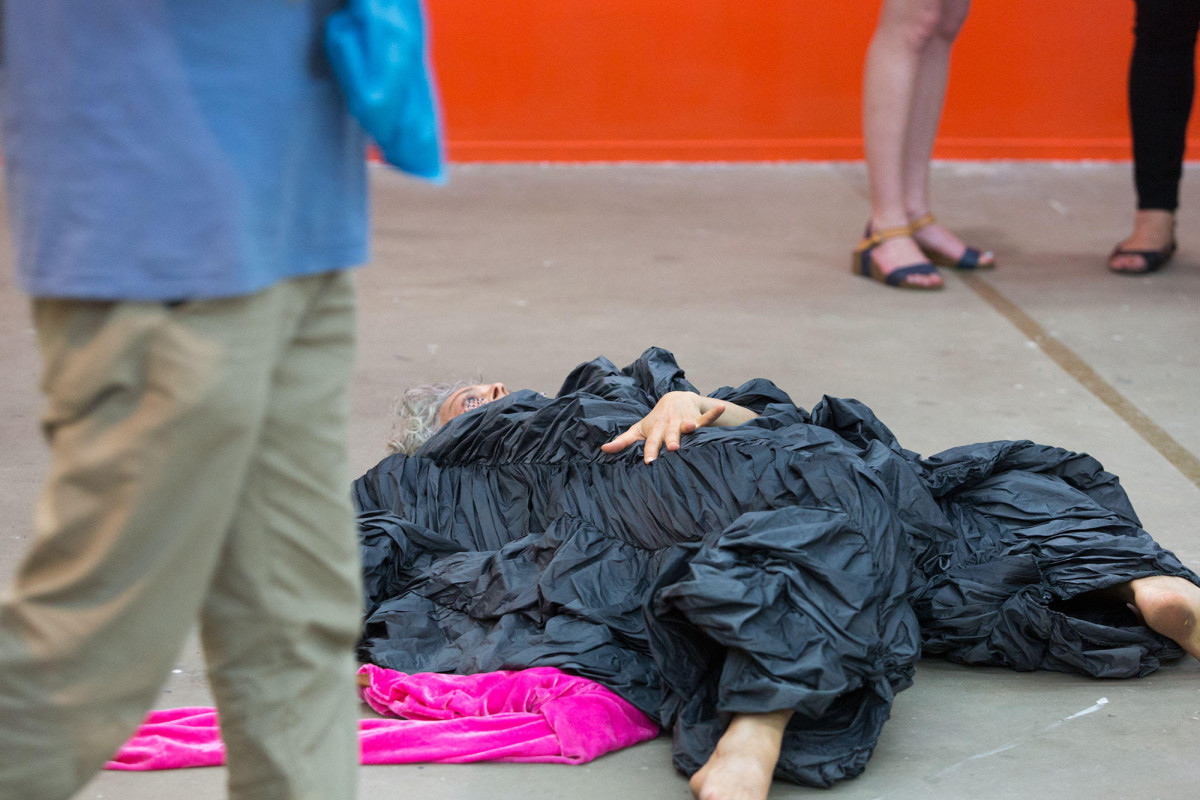 The Associate program invites an established practitioner to interrogate and occupy our organisation through their practice. This annual program allows the Associate to initiate events, discussions, and develop new works that will shape new programming directions and new ways of generating knowledge.
The inaugural Associate at our venue at the Collingwood Arts Precinct will be Shelley Lasica.
Shelley is an independent choreographer and dancer whose practice is characterised by cross-disciplinary collaborations and an interest in presenting dance in various spatial contexts.
Throughout her career, she has been making solo performances that function as a means and a reason for showing work. This practice provides the basis for generating ensemble works that question the collaborative and interdisciplinary possibilities of choreography.
PROGRAM
The Design Plot, 30 November 2019
The Design Plot is an ongoing collaborative performance project, choreographed by Shelley Lasica including collaborations with six dancers, a videographer, and a scenography consultant. The Design Plot uses the structure of dancing, with the discipline of scenography as a source for its design and development. Scenography describes the visual, spatial and experiential composition of a work that also could include design and structure of the space, but also might be interpreted to include temporal, textual and sonic aspects.
The Design Plot is supported by the City of Yarra.
Research and discussions, December 2019 - January 2019
A series of discussions and research sessions independently and with other practitioners in relationship to Bus Projects shifting context.
Choreography workshops, 12, 19, 26 February 2020
A series of workshops about choreography designed for artists' whose primary practice is neither dance nor choreography. These sessions will address, in different ways, notions around the development of ideas individually and collectively and the relationship and implications imbedded between these modes. Investigating the transmission of ideas in making work and its distribution through choreography as a subject for discussion and as a mode of production. Discussions will be focussed on the areas of originality, the body, truth and context; as well as accumulation of, and releasing from knowledge.
The call-out for EOIs is currently open. More information here
The Design Plot Book launch, early 2020
In association with Perimeter and the City of Yarra, Shelley Lasica will launch a material outcome of The Design Plot—a performance and research project that included collaborations with six dancers, a videographer, and a scenography consultant. Initiated in 2016, The Design Plot has been performed at RMIT Design Hub, MPavilion, Gertrude Glasshouse, Minanoie, Royal Melbourne Tennis Club, Sutton Projects, The SUBSTATION, 212Albion (Neon Parc) and Bus Projects. For the event, there will also be a screening of the video collaboration with James Wright.
---
Shelley has continuously pushed the boundaries of performance in museum and gallery contexts for almost thirty years. Her practice and approach to art making continues to evolve dynamically through rigorous and imaginative processes of research and experimentation.
Shelley's choreographic works illustrate an enduring interest in thinking about dance, movement and the many contexts in which they occur. Her works have been presented by Melbourne Festival; National Gallery of Victoria; Artspace, Sydney; Centre Nationale de la Danse, Paris; Siobhan Davies Studios, London; Dance Massive 2015; 20th Biennale of Sydney; Murray White Room and Anna Schwartz Gallery. Since the 1990s she has worked collaboratively with a large number of visual artists, writers, composers, and designers including Paul Schutze, Kathy Temin, Robyn McKenzie, Franc Tétaz, Martin Grant, Helen Grogan, Bridie Lunney, and Anne-Marie May.
Shelley is a guest teacher of dance and choreography in the Interior Program, RMIT University, Monash Art and Design and Architecture Faculty, Monash University and at Lucy Guerin Inc.
As our first Associate in a new venue, Shelley will mine the complex rhythms and micro-ecologies of our Artist-Run Initiative through an expanded notion of "choreography" within an institutional context. At a time of literal movement and change, it is a time when we wish to welcome artists in to shift the structures that will form the architecture on which we will build our future.