Exhibits,
Carly Fischer, Edwina Stevens
Conversation Piece
Opening: Tuesday 9th March, 6-8pm
Dates: 9 March - 10 April 2021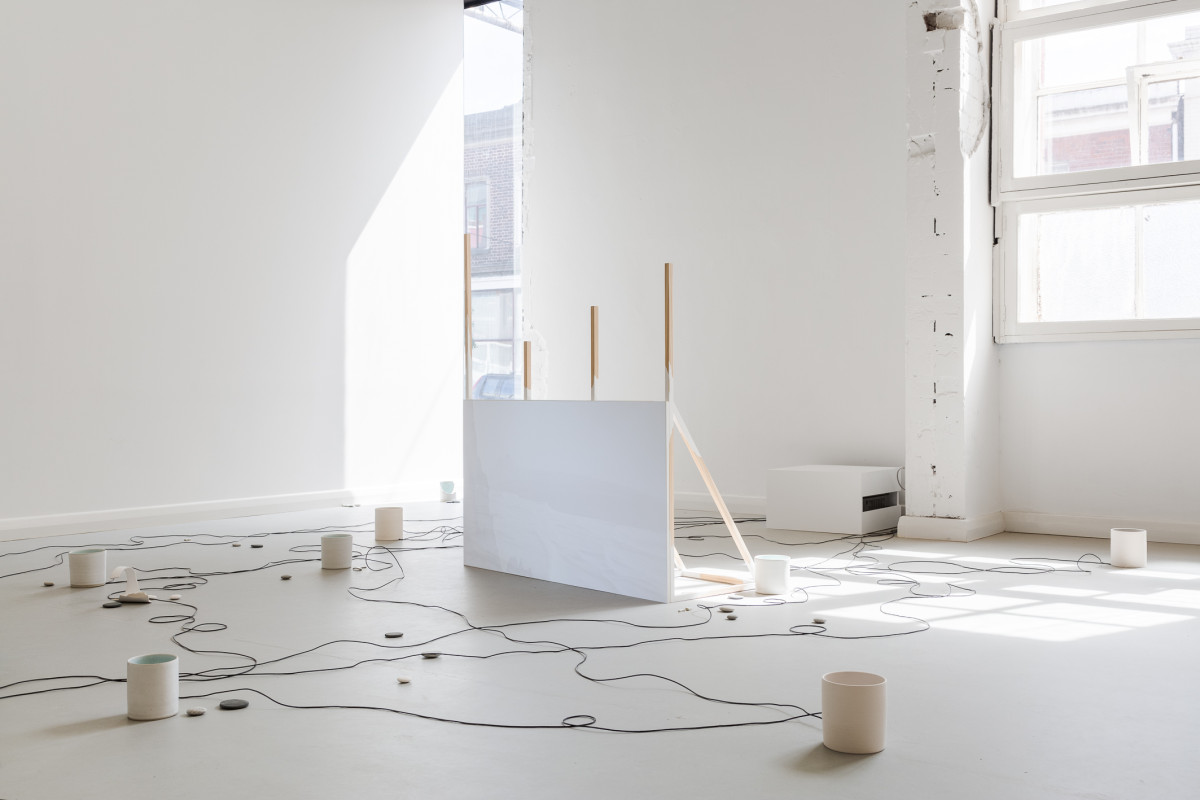 Conversation Piece is a collaborative sculptural and audiovisual installation between Carly Fischer and Edwina Stevens that investigates interconnected dialogues between the artists material methodologies in response to questions of contemporary environmental engagement. The work extends the artists' collaborative practice and its interrogation of place-responsive practices, exploring how fragmentary and open encounters with environments might create alternate narratives that question broader, colonial perspectives. This specific collaboration draws on Edwina's audiovisual work 'Neve', recorded during a white-out on Te Moeka o Tuawe glacier, Aotearoa, where the shifting visibility of the glacial environment produced unexpected relationships between sonic and visual elements. Reflecting on how this alternate perspective opened up more generative engagements with the place, Conversation Piece extends this dialogue into a collaborative conversation between the artists material methodologies. Building on the sonic and visual materiality in 'Neve' through a series of accumulative sculptural and audiovisual feedback loops, the work seeks to explore how creating more collaborative conversations with places might shift political and environmental awareness.


Catalogue
Carly Fischer is a sculptural and audio installation artist from Melbourne, Australia. Her work explores the smaller details, peripheral zones and hidden histories of places, creating alternate narratives that question broader cultural and colonial perspectives. Engaging with environments through a fragmentary and meandering process of encountered objects, materials, sounds and histories, her sculptural and sonic reconstructions reflect on places as complex and shifting sites of accumulation, interaction and negotiation.
Carly has exhibited widely in Australia, Germany, Austria, The Netherlands, Scotland, Japan and the US through solo, group and collaborative projects and residencies, including recent exhibitions at Incinerator Gallery, Melbourne, Centre for Contemporary Art, Glasgow, Bundoora Homestead Art Centre, Melbourne, The Art Gallery of Ballarat, Warrnambool Art Gallery, Watch This Space, Alice Springs, Gippsland Art Gallery, KWADRAT and REH Kunst, Germany and MU Artspace, the Netherlands. Her sculptural and sound installations often include collaborations with sound artists. Her recent collaboration with audiovisual artist Edwina Stevens 'I feel the earth move under my feet', created in response to a residency at Melbourne's Living Museum of the West and exhibited at Incinerator Gallery in 2019, was included in Radiophrenia, Centre for Contemporary Art, Glasgow and is also upcoming at La Trobe Art Institute, Bendigo. Carly has also been a finalist in prizes such as The 2017 Guirguis New Art Prize, The Art Gallery of Ballarat and The 2018 Incinerator Art Award with her work 'Creating False Memories for a Place That Never Was', in collaboration with sound artist Mieko Suzuki. She has been the recipient of several Australia Council Art Grants as well as an Australian Postgraduate Award for her MFA research at Monash University focusing on some of the problems of site-specific practice in a contemporary context.
Edwina Stevens (Dunedin, Aotearoa/Melbourne) is an audiovisual artist working across composition, installation and live performance focusing on synthesized sound, field recordings, found acoustic elements/instruments and obsolete media. Her work investigates audiovisual processes of engaging with places that are collaborative, improvisational and serendipitous, exploring entanglements of the temporal, material and experiential through chance encounters, tangential processes and unanticipated outcomes.
Edwina's audiovisual practice has been exhibited as part of group shows and collaborations, through installations, radio pieces and screenings, such as at Incinerator Gallery (Melbourne 2019), Radiophrenia (Centre of Contemporary Art, Glasgow 2019), Radia Network (commissioned radio piece, European network 2018), ABC Spotlight Audible Women (Melbourne 2017), Melbourne Environmental Film Festival (Melbourne 2015), Blue Oyster Gallery (Dunedin, 2011), Artspace (Auckland, 2010), HSP (Christchurch, 2010), None Gallery (Dunedin), The Anteroom (Dunedin). Her recent sound collaboration with Carly Fischer was included as part of Radiophrenia 2019 at Glasgow Centre for Contemporary Art, after being exhibited as part of a multi-channel sound and sculptural installation at Incinerator Gallery. Aside from her audiovisual installation practice, Edwina has played under the moniker of 'eves' since 2011 performing live visual and sound works across New Zealand and Australia (FFFFFF, eves). She has played in collaborative and self-structured events and tours such as Lines of Flight Festival Dunedin 2019, Ladyz In Noyz Australia 2017, Sisters Akousmatica Liquid Architecture/Next Wave Festival, Signal 2016, Nowhere Festival Auckland 2014 and Make It Up Club Melbourne, recorded and released 3 albums and was nominated for The Age Music Victoria Awards/Best Experimental-Avante Garde Act for 2015.
Carly and Edwina began collaborating in 2018 through a shared interest in investigating the hidden histories and peripheral dialogues of places, through similar sculptural and audio-visual methodologies, focusing on encounters, excavations, fragments, traces and ghosts. Based in Melbourne, Australia but also drawing on Edwina's past and ongoing connections to Aotearoa, their investigations are particularly focused on the political importance of smaller, local narratives in Australia and New Zealand.